THE ROLE OF SIMULATION IN EVALUATING THE BEHAVIOUR OF AN ELASTIC COUPLING WITH FLEXIBLE METALLIC ELEMENTS
Keywords:
elastic coupling, flexible disc, stress state, finite element method (FEM), buckling stability
Abstract
The paper presents the analysis of the elastic coupling with flexible elements, taking into consideration the mechanical strength criterion in conditions of normal loading or torsion overload, with and without misalignment, using finite element analysis, responding to multiple demands that are required in coupling structure. There are presented the basic principles for applying the finite elements method: the study of convergence at different mesh sizes, the loading scheme and boundary conditions for the flexible element. Also, the paper presents several simulations to prove the behaviour and functionality of the coupling for different operational scenarios: mechanical stress, buckling stability and modal analysis.
Downloads
Download data is not yet available.
References
Dobre, D. (2004). Researches on multi-criteria optimization of elastic couplings with metallic flexible membranes, PhD Thesis, University Politehnica of Bucharest.
Dobre, D., Dobre, G., Mirica, R., Sorohan, S. (2003). On strain and stress state of the metallic membranes at flexible coupling, Proceedings of the International Conference "Power Transmissions '03", vol.1, ISBN 945-90272-9-5, pp. 69-72, Varna, Bulgaria.
Niemann, G. (1981). Maschineelemente, Springer Verlag, Berlin.
Dobre, D., Simion, I., Ionita, E., Dobrescu, T. (2011). Modal analysis of the metallic membrane from elastic coupling structure, Annals of DAAAM for 2011 & Proceedings of the 22th International DAAAM
Symposium, pp. 0319-0320, ISSN 1726-9679, ISBN 978-3-901509-73-5, Vienna, Austria.
Sorohan, S. & Sandu M.A. (1997). Nonlinear FEMAnalysis of a Diaphragm Spring, ELFIN 4, pp. 125-128, Constanta, Romania.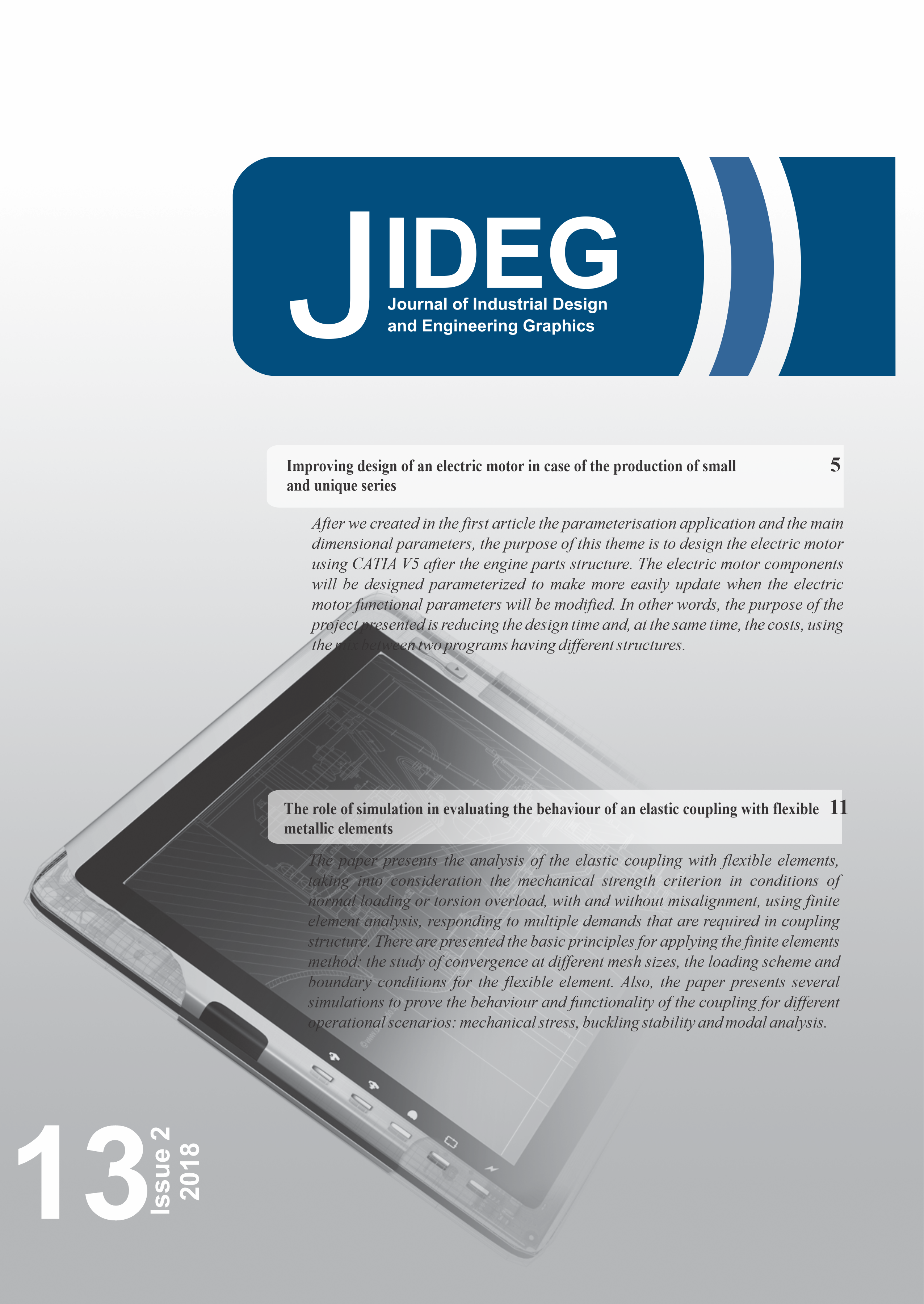 Downloads
License
Copyright (c) 2020 Journal of Industrial Design and Engineering Graphics
This work is licensed under a Creative Commons Attribution-NonCommercial 4.0 International License.