INTERPRETING EVOLUTIONARY TRENDS TO UNDERSTAND THE DIMENSIONS OF PRODUCT DESIGN PROCESS
Keywords:
conceptual development, trend of evolution, innovation, ideal product, democratic design
Abstract
Many traditional products on the market today require significant improvements in their designs and production technology. The paper illustrates the role of today's designers in creating novel concepts and the importance of knowing the relevant trends of evolution of industrial products (as engineering systems) in accordance with the "Axiom of Ideality". A systematic approach of the ways of achieving best innovations is offered. Descriptions of these trends of new products characterized by high performance parameters are presented. Several conclusions highlight the main points of the paper. It is revealed that the study of conceptual developments in design products is of great practical importance today.
Downloads
Download data is not yet available.
References
Dobre, D. (2014). Dezvoltare de produs – Baze
teoretice si studii de caz, Editura Bren, ISBN 978-
-610-117-2, Bucuresti.
Morris, R. (2009). The Fundamentals of Product
Design, AVA Publishing SA, ISBN-13: 978-2-9-
-17-8.
Pahl, G., Beitz, W. (1996). Engineering Design - A
systematic approach, Springer, London, Berlin,
Heidelberg, New York, Paris, Tokio, 2nd Edition.
Ulrich, K., Eppinger, S. (2008). Product Design and
Development, McGraw-Hill, ISBN-10:0-39-044050-7
Sandu, C. (2008). Contributions to power
transmission through vibrations at mechanical
systems, PhD Thesis, University Politehnica of
Bucharest.
Dobre, D., Simion, I. (2009). Special applications of
fair surfaces representation, The 3rd International
Conference on Engineering Graphics and Design,
ICEGD 2009, Acta Technica Napocensis, Series:
Applied Mathematics and Mechanics, no. 52, vol. Ia,
ISSN 1221-5872, pp. 273-278, 12-13 June 2009,
Cluj-Napoca, Romania.
Rivin, E.I. (1995). Conceptual developments in
design components and machine elements,
Antriebstechnick, vol. 117, pp. 33 – 41.
Dobre, D. (2015). Operational valences of industrial
design in product development process, Journal of
Industrial Design and Engineering Graphics, Vol. 10,
Issue 2, pp. 9-14, November 2015, ISSN 1843-3766.
Arion, A.F. (2016). Researches regarding the
influence of additive manufacturing on the design of
industrial products, PhD Thesis, University
Politehnica of Bucharest.
Verone, P. (1983). Inventica, Editura Albatros,
Bucuresti.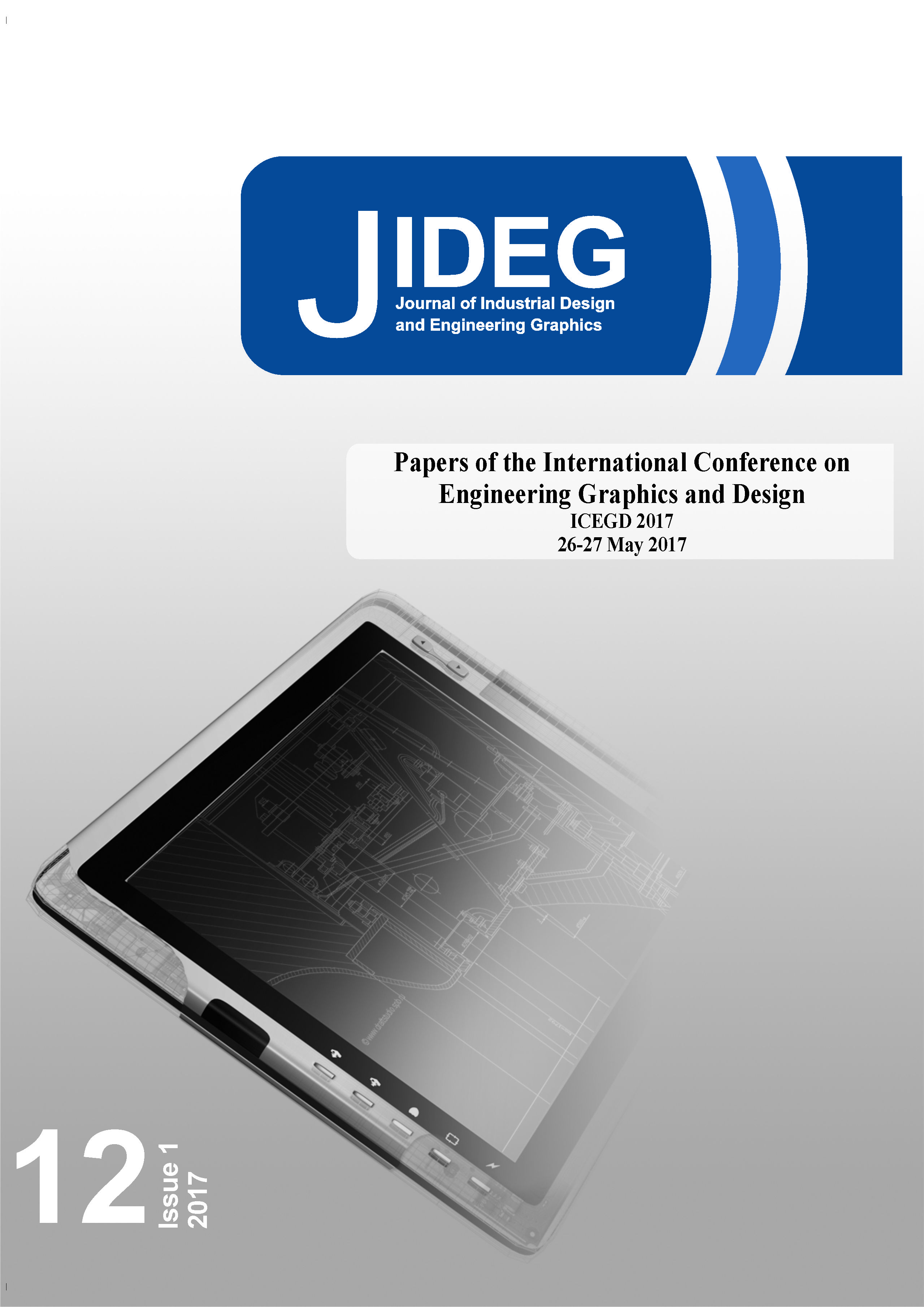 Downloads
Section
Industrial Design and Graphic Design
License
Copyright (c) 2021 Journal of Industrial Design and Engineering Graphics
This work is licensed under a Creative Commons Attribution-NonCommercial 4.0 International License.