THE CONCEPTUAL DESIGN OF AN ULTRALIGHT ELECTRIC SCOOTER
Keywords:
electric scooter, conceptual design, last-mile distances, personal transportation, storage
Abstract
It can be observed that today we live in a hectic environment, filled with lots of strict deadlines which we are obliged to meet by society standards. Today we have to be in a place at ten a.m. and one kilometer away at 10:05. Transportation is probably one of the most essential instruments of our success in modern society, and fits in the same category as skill. In this idea, the paper develops the design of an electric scooter having mechanisms used to improve the transportation and storage characteristics, and in the end the best solution will be proposed. There will also be presented some design ideas of three constructive solutions iteratively refined.
Downloads
Download data is not yet available.
References
Electric scooter definition; https://en.wikipedia.org/wiki/Electric_kick_scooter Accessed 10.06.2017
Cheapest electric scooter; https://www.aliexpress.com/item/Electric-bicycleelectric-scooter-electric-scooter-pedal-folding-minioffice-worker; Accessed 10.06.2017
Best Electric Scooters With ExtraOrdinary Features https://www.youtube.com/watch?v=pCHhadsnKg8&t=1s; Accessed 10.06.2017
Hyundai IONIQ; http://www.hyundainews.com/us/en/media/pressreleases/47080/hyundai-motors-ioniq-scooter-conceptprovides-first-and-last-mile-mobility; Accessed 10.06.2017
My Way Compact; http://newatlas.com/mywaycompact-smallest-fold-up-electric-scooter/22475/ Accessed 10.06.2017
Kuang, C. (16 April 2009). "Convenience Is King". GOOD Magazine; Accessed 6.10.2017
https://www.kickstarter.com/projects/flykly/flyklysmart-ped; Accessed 12.12.2017
https://www.themetalstore.co.uk/products/5mmthick-aluminium-sheet; Accessed 14.01.2018
https://www.amazon.com/PowerAll-PBJS32000RPortable-Vehicle-Starter/dp/B00STCW4PA/ref=sr_1_cc_6?s=aps&ie=UTF8&qid=1515856209&sr=1-6-catcorr&keywords=32000+mah; Accessed 14.01.2018.
Dobre, D. (2014). Dezvoltare de produs-Baze teoretice si studii de caz, Editura Bren, ISBN 978-606-610-117-2, Bucuresti.
Ulrich, K., Eppinger, S. (2008). Product Design and Development, McGraw-Hill, ISBN-10:0-39-044050-7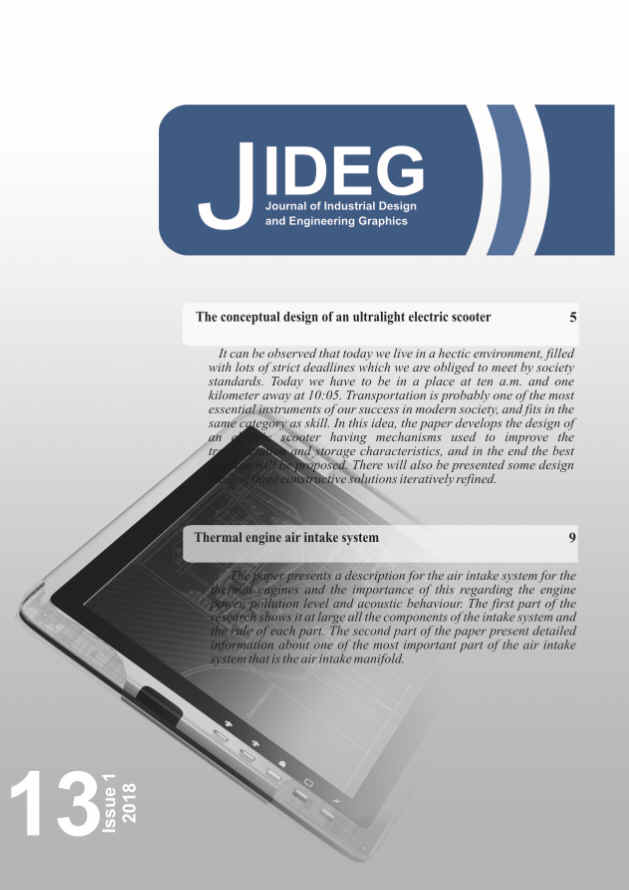 Downloads
License
Copyright (c) 2020 Journal of Industrial Design and Engineering Graphics
This work is licensed under a Creative Commons Attribution-NonCommercial 4.0 International License.