NEW CONCEPTUAL SOLUTIONS FOR ELASTIC COUPLINGS WITH HIGH CAPABILITY COMPENSATION OF MISALIGNMENTS
Keywords:
elastic couplings, constructive principle, loading scheme, mechanical strength criterion
Abstract
The paper develops a problem of great interest in power transmissions, very widely applied in practice: the use of elastic couplings having an adequate level of torque transmission and a reasonable axial and angular misalignment capability based on elastic deformations of specific flexible elements. A characterization (discussion) of two elastic couplings characteristic for the area of compensative couplings is offered. An innovative principle of elastic coupling with reinforced flexible elements is proposed. The mechanical strength analysis for both elastic couplings (with spoked metallic membranes and reinforced elastic elements) in the case of existing axial and angular deviations is discussed also. It is revealed that the study of these couplings based on elastic deformations is of great theoretical and practical importance today.
Downloads
Download data is not yet available.
References
Dobre, D. (2004). Researches on multi-criteria
optimization of elastic couplings with metallic flexible
membranes, PhD Dissertation, University
POLITEHNICA of Bucharest.
Phillips, J. ea. (1977). The Design and Application of
Flexible Metallic Couplings, Proceedings of the
Intern. Conf. on Flexible Coupling for High Powers
and Speeds, June 1977, Univ. of Sussex, Brighton,
England, Publisher: Michael Neale & Associates Ltd.
Dobre, G., Dobre, D., Mirica, R.F., Sorohan, S.
(2003). On strain and stress state of the metallic
membranes at flexible coupling, Proceedings of
Power transmissions '03, pp. 69-72, Varna, Bulgaria.
Mancuso, J., Corcoran, J. (2003). What are the
Differences in High Performance Flexible Couplings
for Turbomachinery? Proceedings of the 32th
Turbomachinery Symposium, pp. 189-207, A&M
University, Texas, USA.
Procop, M., Chisu, E. (2006). Camiro coupling for
shafts with reinforced elastic elements, Proceedings
of Tehnonav Conference, pp. 105-109, ISBN 973-
-307-4, May 2006, Constanta, Romania.
Procop, M. (2001). Reinforced elastic element and
shaft coupling system, Patent nr. 116925,
(www.cttecotech.ro/salon/postere/P601.ppt).
Procop, M. ea. (2008). Experimental and numerical
analysis of a coupling system's elastic components,
Annals of "Dunarea de jos", University of Galati,
Fascicle XIV, Mechanical Engineering, ISSN 1224-
Buzdugan, Gh. (1986). Rezistenta materialelor, Ed.
Academiei RSR, Bucuresti.
Documentation from the companies: All Power –
Transmission Inc., Wisconsin, USA; Autogard
Kupplungen, 32657 Lemgo, Germania; Flexibox
International – Manchester, England
(www.johncrane.co.uk); Friedr. Flender & Co, 46393
Bocholt, Germania (www.flender.com); Geislinger &
Co. Schwingungtechnik, Salzburg – Austria
(www.geislinger.com); Maschinenfabrik Stromag,
Germania (www.stromag.com); Voith Turbo KG,
Germania (www.voithturbo.com); Vulkan,
Kupplungs – und Getriebebau, Bernhard Hackfosth &
Co, Germania (www.vulkan.com); Braflex SRL
Brasov – România (www.braflex.ro); Camiro
Engineering SRL Constanta (www.camiro.eu).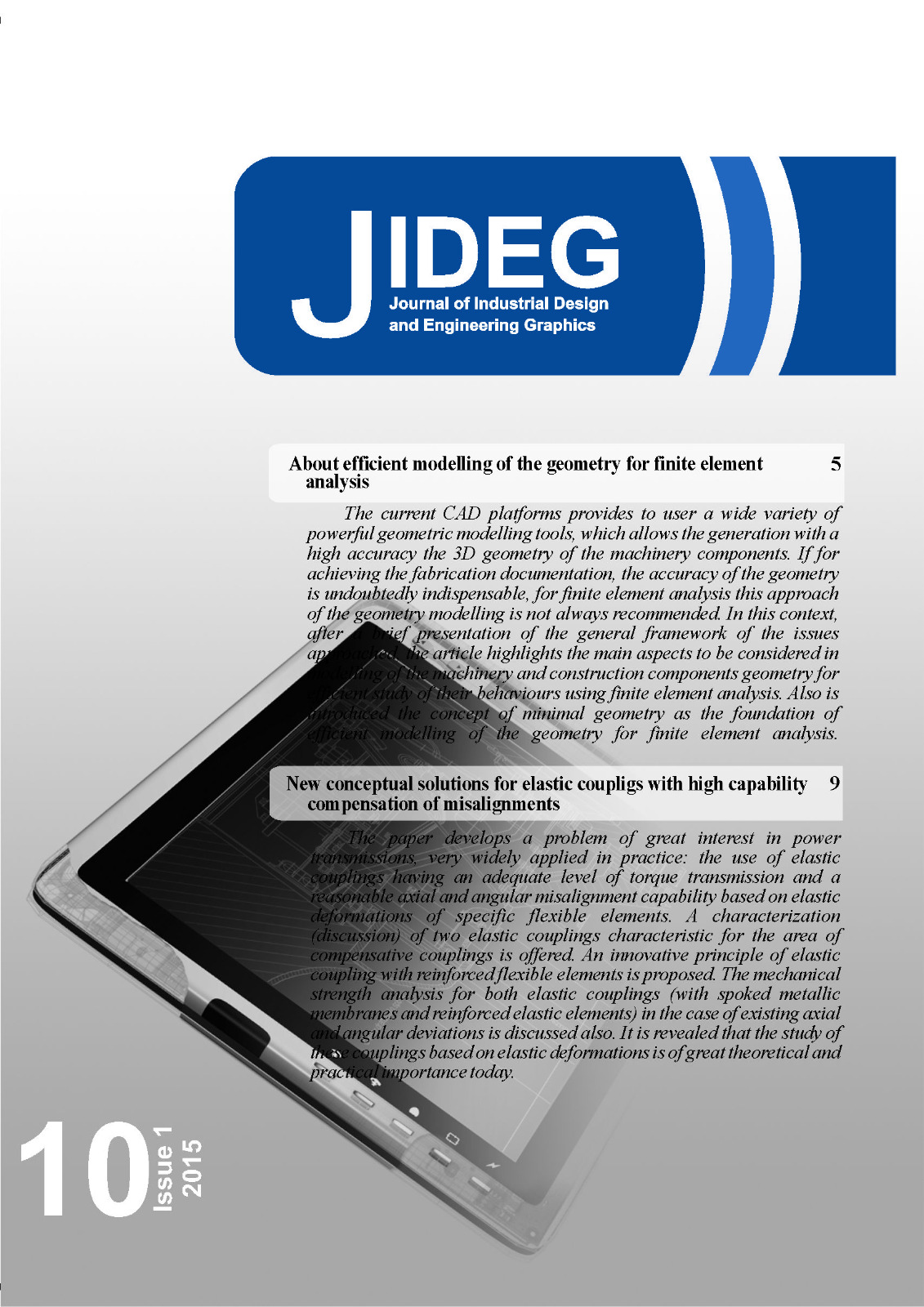 Downloads
License
Copyright (c) 2021 Journal of Industrial Design and Engineering Graphics
This work is licensed under a Creative Commons Attribution-NonCommercial 4.0 International License.