OPERATIONAL VALENCES OF INDUSTRIAL DESIGN IN PRODUCT DEVELOPMENT PROCESS
Keywords:
industrial design, aesthetics, ergonomics, computer-aided industrial design, eco-design
Abstract
The paper describes how the industrial design (ID) process takes place in relation to other product development activities. Also, this article presents specific steps industrial designers follow while designing a product. We refer to the different examples to explain essential ideas such as: the shape of an object should follow its function, the benefits of investing in ID, the quality of the ID effort for a new product, the importance of ID to a particular product.
Downloads
Download data is not yet available.
References
Ulrich, K., Eppinger, S. (2008). Product Design and
Development, McGraw-Hill, ISBN-10:0-39-044050-7
Dobre, D. (2014). Dezvoltare de produs – Baze
teoretice si studii de caz, Editura Bren, ISBN 978-
-610-117-2, Bucuresti.
Dobre, D. ea. (2011). Exploring symmetry in
mechanical systems, The 4th International Conference
on Engineering Graphics and Design, ICEGD 2011,
Buletinul Institutului Politehnic din Iasi, Tomul LVII
(LXI), Fasc. 5, pp. 277-284, ISSN 1011-2855, 3-5
June 2011, Iasi, Romania.
Pamfilie, R., Procopie, R. (2003). Design si estetica
marfurilor, Editura ASE, Bucuresti.
Moldovan, V., Saramet, G. C. (1988). Forma si
culoare în constructia de masini, Editura Dacia, Cluj
Napoca.
Achitei, G. (1988). Frumosul dincolo de arta, Editura
Meridiane, Bucuresti.
Popov, V. (1995). Teoria designului, Fundatia de
Cultura Universitara si Tehnica UNITEH, Bucuresti.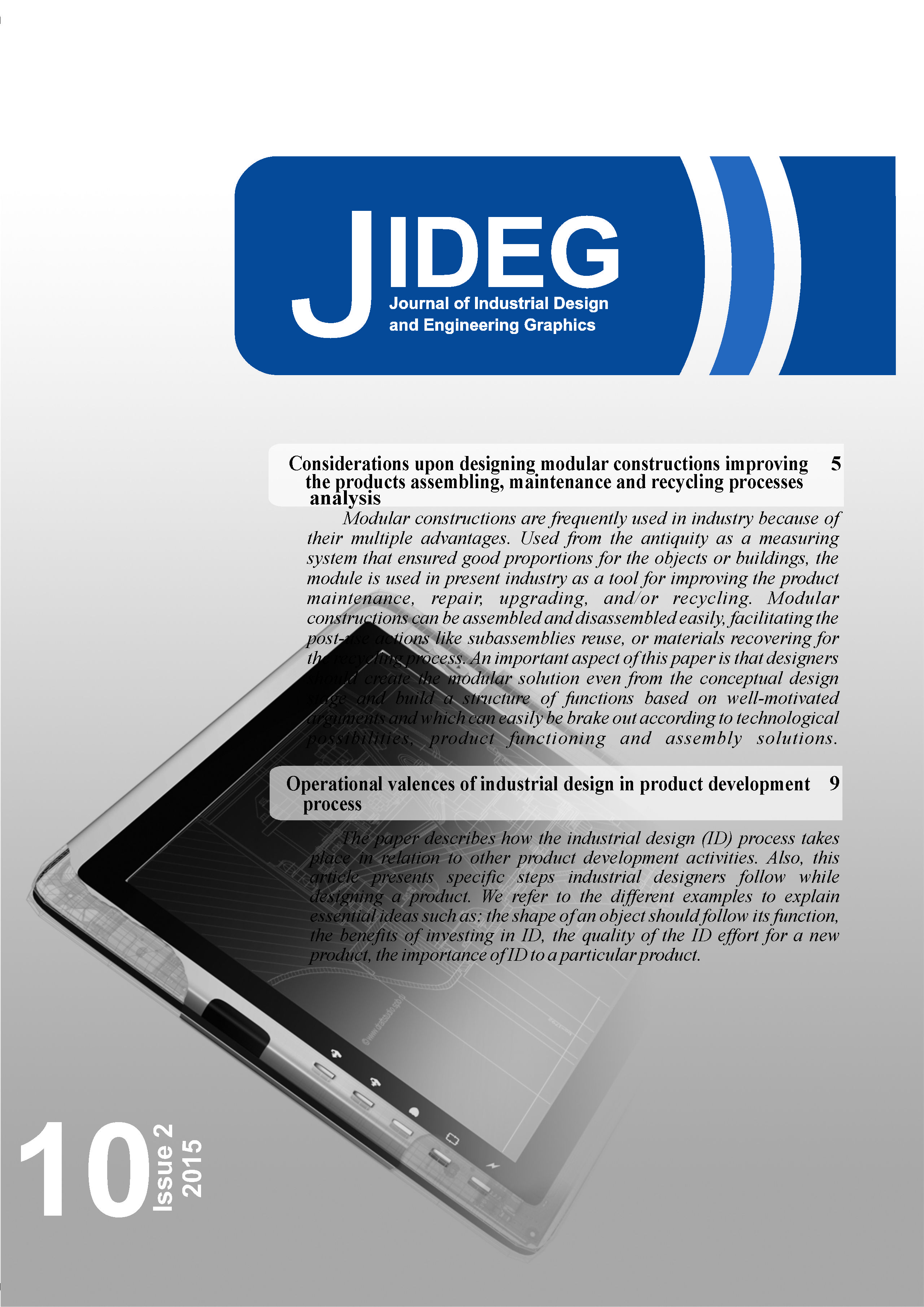 Downloads
License
Copyright (c) 2021 Journal of Industrial Design and Engineering Graphics
This work is licensed under a Creative Commons Attribution-NonCommercial 4.0 International License.