INTRODUCTION OF RHINOCEROS SOFTWARE FOR EXERCISES OF SUBJECT GEOMETRIC SURFACES IN ARCHITECTURE
Keywords:
free curved forms, rhinoceros software, exercise templates, geometric surfaces in architecture
Abstract
In contemporary architecture, free curved forms of objects, or parametrically modeled shapes, are in the expansion. The authors had an interest to upgrade student's knowledge with complex geometry design and contemporary software such as Rhinoceros. In that manner we made an exercise templates, that our students on Architecture used in elected subject "Geometric Surfaces in Architecture" where they learned about types, usage and design of geometric surfaces in architecture. By creating templates we reassure precise, faster and planed work with students as they obtain every possible explanation, for every exercise and homework that they have to master. Moreover this teaching method allows students not only to pass the course and learn new modeling and design techniques, but also keeping the prepared material as support for future architectural work.
Downloads
Download data is not yet available.
References
Ljiljana, Petrusevski., Maja, Petrovic., Mirjana, Devetakovic., Jelena, Ivanovic. (2017). Modeling of Focal-Directorial Surfaces for Application in Architecture, FME Transactions, 2017, VOL. 45, No 2, pp. 294-300, ISSN: 1451-2092 (print) ISSN: 2406-128X
Ana-Maria, Graur., Carmen, Marza,, Georgiana, Corsiuc. (2018). The helical surfaces and their application in students' works, Proceedings of Mongeometrija 2018, Ed. Vesna Stojakovic, ISBN: 978-86-6022-055-6, pp. 575-584, Novi Sad, june 2018.Faculty of Technical Science, University of Novi Sad, Novi Sad
Helmut, Pottman., Andreas, Asperl., Michael, Hofer., Axel, Kilian. (2007). Architectural geometry, (eBook) Bentley Institute Pres, ISBN: 978-0-934493-04-5 Exton, Pennsylvania, USA,
Sonja Krasic. (2012). Geometric Surfaces in Architecture (Geometrijske povrsi u arhitekturi), (printed Book), ISBN: 978-86-88601-02-3, Faculty of Civil Engineering and Architecture in Nis, Serbia
Zlata, Tosic., Sonja, Krasic. (2017). Exercise templates for GSA, Faculty of Civil Engineering and Architecture, University of Nis, Serbia
Sonja, Krasic., Naomi, Ando., Petar Pejic, Zlata Tosic. (2018). Comparative Analysis of Teaching in Geometric surfaces at Architectural Faculties in Nis and Tokyo, (eBook), Part of Advances in Intelligent Systems and Computing, book series (AISC, volume 809),Springer, Tiergartenstraße 17, 69121 Heidelberg, Germany, www.springer.com pp. 1611-1623, ISSN: 2194-5357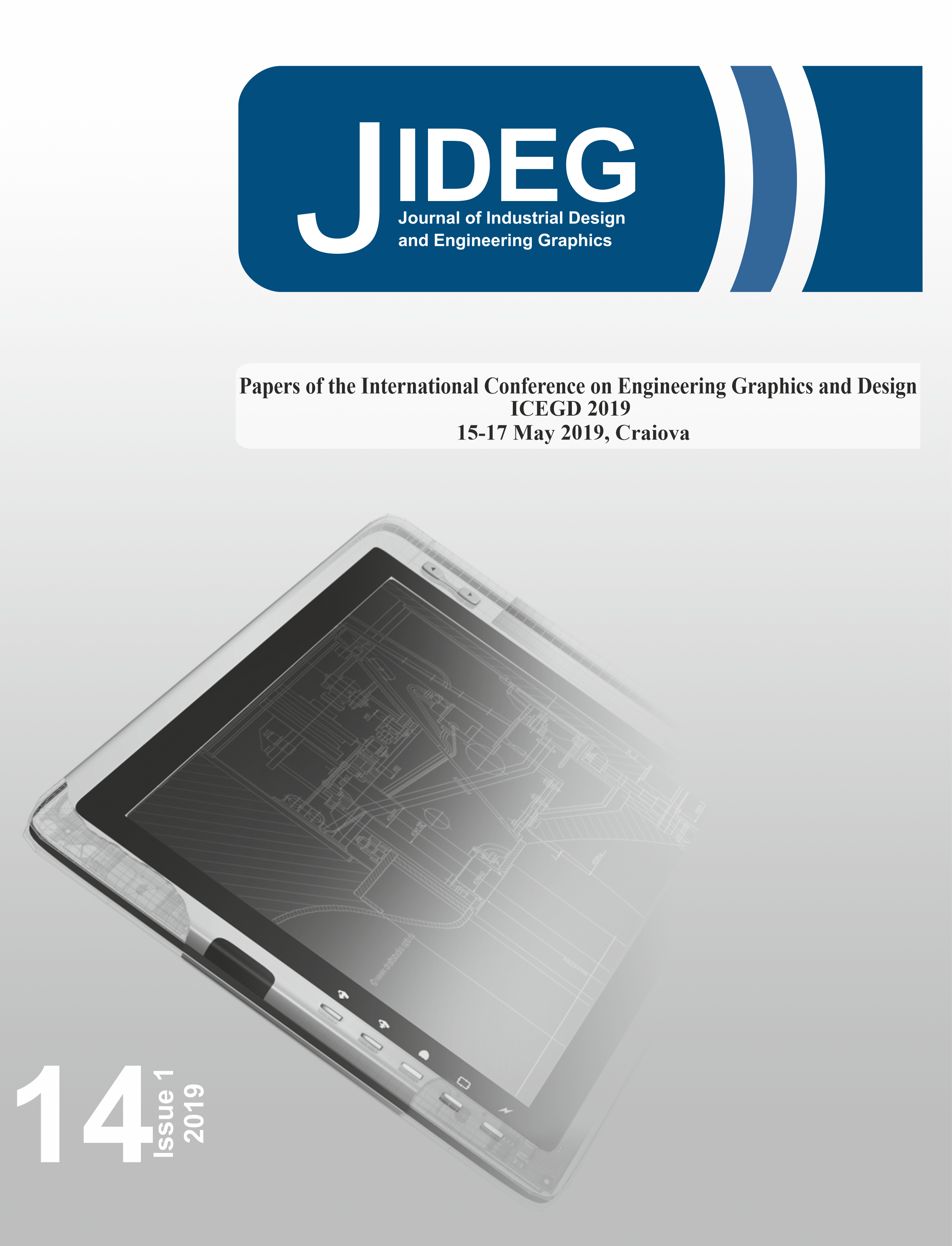 Downloads
Section
Teaching Methodology
License
Copyright (c) 2020 Journal of Industrial Design and Engineering Graphics
This work is licensed under a Creative Commons Attribution-NonCommercial 4.0 International License.