APPLICATION OF AUGMENTED AND VIRTUAL REALITY IN RESIDENTIAL COMPLEX PRESENTATION, CASE STUDY: ENERGOPROJEKT SUNNYVILLE
Keywords:
Augmented Reality, Virtual Reality, Residential Complex, Mobile applications, Energoprojekt, Sunnyville
Abstract
The traditional method of residential complex project presentations involves the use of a printed poster or elaborate on which the building is presented by using of two-dimensional drawings and images. The main traditional approach problem is the presentation of three-dimensional space on two-dimensional paper. The main focus of this paper is the development of contemporary, mobile systems for residential complex presentations which will be presented on a case study of "Energoprojekt Sunnyville" using a method of virtual and augmented reality. This approach enables easier and better understanding of all types of architectural objects and urban complex, allowing the user intuitive spatial overview of architectural work.
Downloads
Download data is not yet available.
References
Pejic P., Krasic S., Veljkovic M., Sakan S. (2016).
Contemporary approach in traditional architectural
project presentation - Case study of MH Petra, The
th International Scientific Conference on Geometry
and Graphics, moNGeometrija 2016., (152-160), June
-26, 2016, Belgrade, Serbia.
Pejic, P., Krasic, S. and Jovanovic, N., (2014). The
application of augmented reality in the presentation
of existing architectural facilities, International
conference MoNGeometrija 2014, (74-81), Vlasina,
Serbia.
Wael, A. A., 2013. Virtual Reality Use in
Architectural Design Studios: A case of studying
structure and construction, Procedia Computer
Science, Elsevier, Volume 25. pp 220-230.
3D Warehouse, 2017.
https://3dwarehouse.sketchup.com/ [Accessed: 2.
March 2017.].
Sketchfab, 2016. https://sketchfab.com/ [Accessed: 2.
March 2017.].
Oculus Rift, https://www.oculus.com/en-us/ 2017.
[Accessed: 2. March 2017.].
HTC Vive, https://www.htcvive.com/us/ 2017.
[Accessed: 2. March 2017.].
Samsung Gear VR, 2017.
http://www.samsung.com/global/galaxy/wearables/ge
ar-vr/ [Accessed: 2. March 2017.].
Pejic, P., Rizov, T., Krasic, S. and Taševski R., 2015.
Presentation of Existing Architectural Objects Using
Augmented Reality: Case study - Ada Bridge,
Belgrade, Serbia, South East European Journal of
Architecture and Design, Volume 2015; Article ID
, Skopje. pp 1-4.
Pejic, P., Krasic, S., Petkovic, D. and Veljkovic, M.,
Application of augmented reality in facade
redesign presentation. Journal of Industrial Design
and Engineering Grapphics 10(4). pp 45-49.
Azuma, R., 1997. A Survey of Augmented Reality,
Teleoperators and Virtual Environment. pp 355-385.
Sutherland, E. I., 1968. A head-mounted three
dimensional display. In Proceedings of the December
-11, 1968, fall joint computer conference, part I.
ACM, New York, NY, USA. pp 757-764.
Energoprojekt Sunnyville, 2017.
https://play.google.com/store/apps/details?id=re.fu2.s
unnyville&hl=en [Accessed: 16. March 2017.].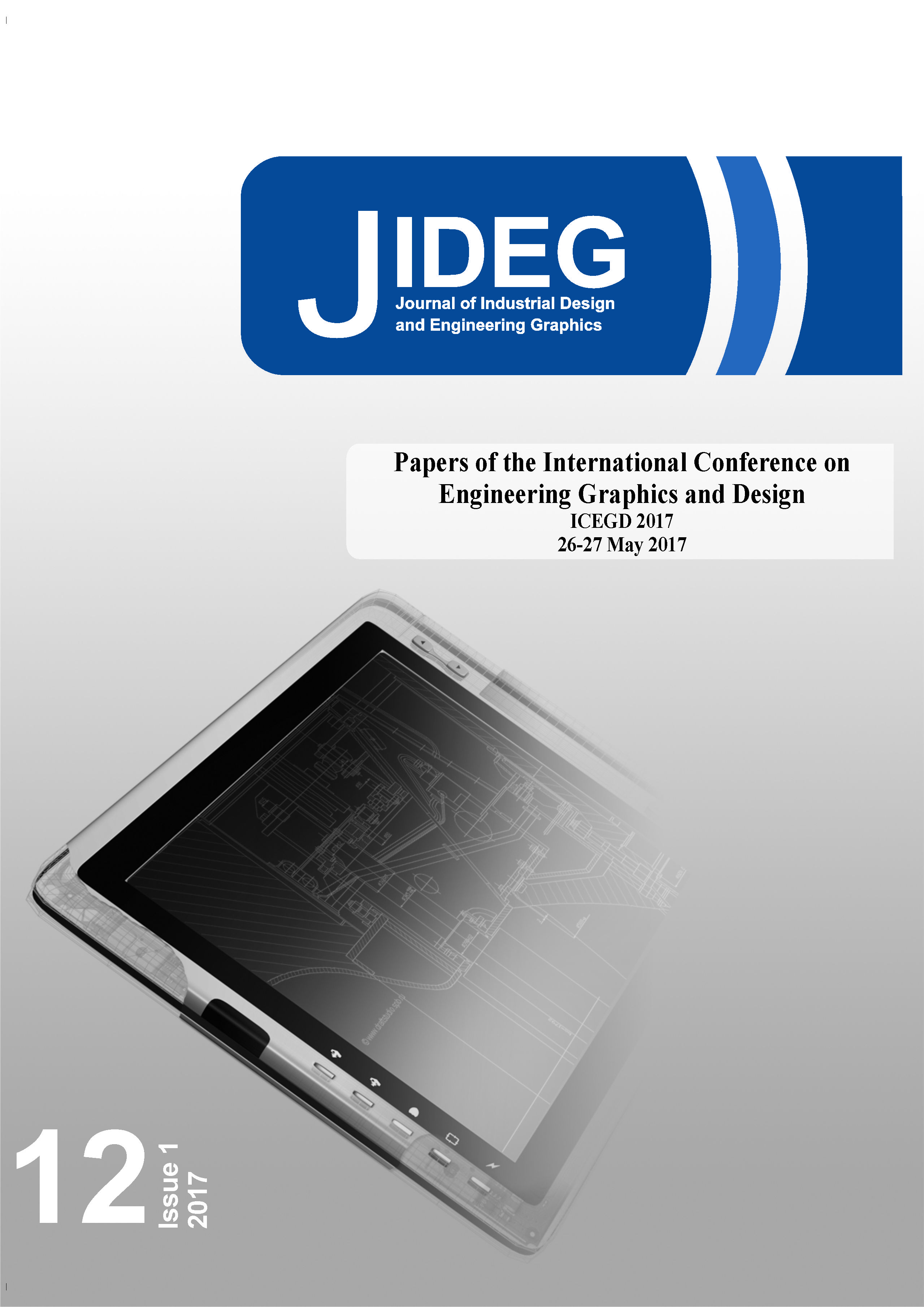 Downloads
Section
Industrial Design and Graphic Design
License
Copyright (c) 2021 Journal of Industrial Design and Engineering Graphics
This work is licensed under a Creative Commons Attribution-NonCommercial 4.0 International License.