PARABOLIC SNAIL AND OTHER SIMILAR CURVES DRAWN BY A MECHANISM
Keywords:
parabolic snail, mechanism of the parabolic snail, contour method, radius of curvature
Abstract
An Artobolevskii mechanism that generates the parabolic snail is being studied. The structural analysis of the mechanism proved to be difficult, finally establishing that one element and two kinematic couples with which it binds are structurally parasitic. By the contour method the calculation relations were established obtaining the desired curve. The mechanism for different values of the angles between the sides considered initially constant was further studied, obtaining a range of curves generated by this mechanism. The positions of the straight segments (horizontal and vertical) which are guides of the sliders have also changed.
Downloads
Download data is not yet available.
References
Artobolevskii, I. I. (1959). Teoria mehanizmov dlia vosproizvedenia ploskih krivâh. Izd. Akademii Nauk USSR.
Chan, Brian; Balmforth, N. J.; Hosoi, A. E. (2005). Building a better snail: Lubrication and adhesive locomotion. Physics of Fluids, Volume 17, Issue 11, id. 113101-113101-10.
Drujkova, T.A., Sirotina, N.I. (2010). Ulitka Pascalia kak integralnaia krivaia kvadraticinovo Differentialnovo uravnenia, Vetnik Nijegorodskvo universiteta im. N.I. Lobaceskovo 202-0, nr. 3.
Eiseman, C.; Charney, N. (2010). Tracks & Sign of Insects & Other Invertebrates: A Guide to North American Species, Stackpole Books, ISBN 978-081- 173-624-4.
Snyman, Ideal snail cam profile, https://www.pinterest com/pin/331859066276321990 Accessed: 2020-03-22.
Winston, R.; Minano, J.; Benitez, P with contribution Narkis Shatz and John C. Bortz (2005). Nonimaging Optics, Hardcover, Elsevier Academic Press, ISBN: 9780127597515.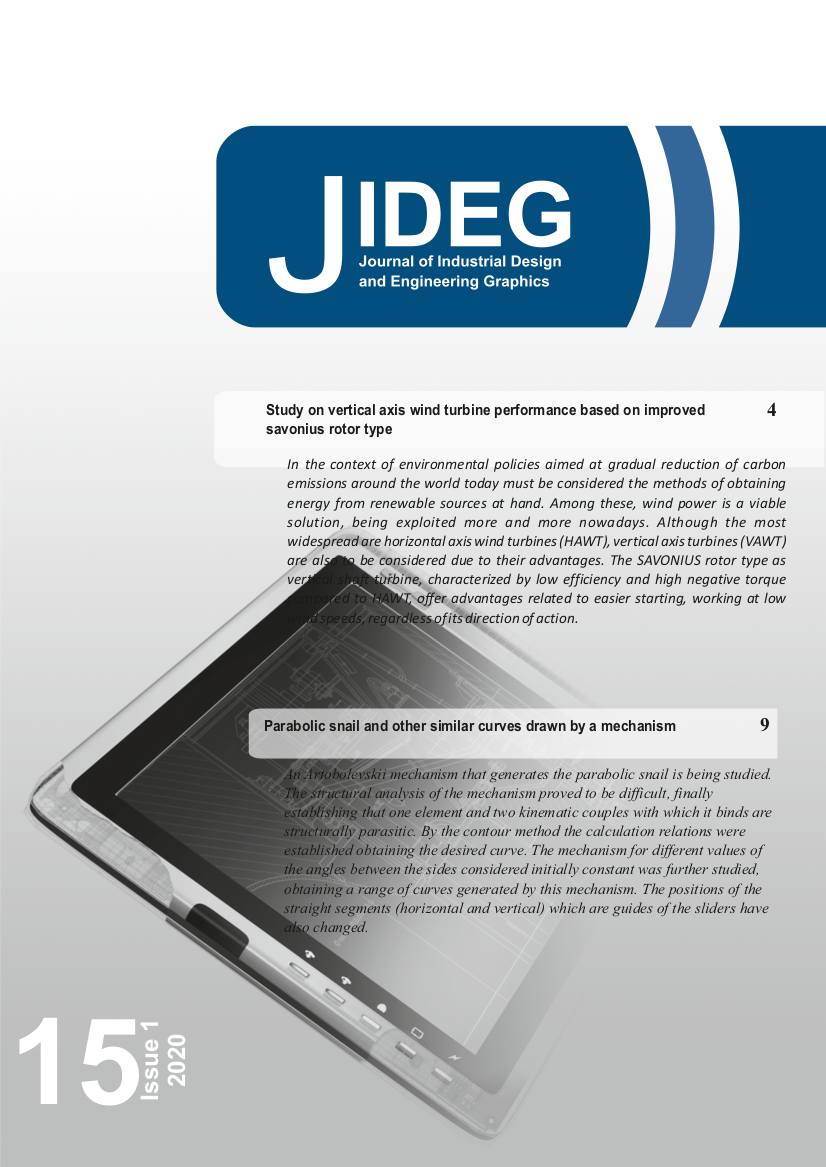 Downloads
License
Copyright (c) 2020 Journal of Industrial Design and Engineering Graphics
This work is licensed under a Creative Commons Attribution-NonCommercial 4.0 International License.