DESIGNING AN EFFECTIVE INTERSECTION USING CAD ENVIRONMENT
Keywords:
road traffic, CAD designing, effective intersection, road safety, transport capacity
Abstract
Ensuring the safety and streamline in road traffic are very important aims, with regard to the nowadays people mobility level. Road infrastructure is an essential element that can meet these requirements. Thus, it is proposed to develop an effective model of intersection by using CAD software tools. This type of intersection can be successfully used on almost any category of roads, increasing road traffic safety, reducing passing times through the intersection and in the same time, reducing conflict points and increase the intersection capacity.
Downloads
Download data is not yet available.
References
Crisan, H.G., Filip, N., (2015). Traffic Modeling
Aspects Using Visum Software and Effects on the Traffic
Optimization, Proceedings of the European Automotive Congress EAEC-ESFA 2015, Springer International
Publishing, Volume 2, Chapter. 46, pp. 495-506, 2016,
ISBN 978-3-319-27275-7, Switzerland.
Hoda, G., Campean, R., (2004). Considerations on
designing roundabout intersections, (Considera?ii asupra
proiectarii sensurilor giratorii), Simpozionul Tehnologie
?i siguran?a, Cluj-Napoca.
Jacobson, H., R., (1940). A history of roads from
ancient times to the motor age, Georgia school of
Technology, Atlanta-Georgia.
Oprea, C., Dinu, O., Ilie, A., BURCIU, ?., (2016).
On the fluidization of the traffic in an urban intersection,
(Asupra fluidizarii circula?iei într-o intersec?ie urbana),
Buletinul AGIR – supliment 2/2016.
NT, (1998). Technical rule 27/01/1998 regarding the
design, construction and upgrading of roads (Norma
tehnica.din.27/01/1998 privind proiectarea, construirea
si.modernizarea.drumurilor),.available.at:
https://danmihalake.files.wordpress.com/2009/02/normatehnica-
din-27-01-1998-privind-proiectarea-construireasi-
modernizarea-drumurilor.pdf. Accesed: 2017-
-01.
NT, (2010). Normative for arrangement the public
road level intersections, (Normativ pentru amenajarea
intersec?iilor la nivel pe drumurile publice), available at:
http://sitevechi.cnadnr.ro/ReglementariTehnice/AND%2
%20-%20REV%202.pdf. Accesed at: 2017-04-02.
STAS, (1985). State Standard. Road works -
Geometry of Roads Paths, (Standard de Stat. Lucrari de
drumuri-Elemente Geometrice ale Traseelor), available
at:.http://www.constructii.proiect.ro/upload/normative/cf
dp/STAS%2086385%20Elemente%20geometrice%20ale
%20traseelor%20(RO).pdf. Accesed at 2017-03-28.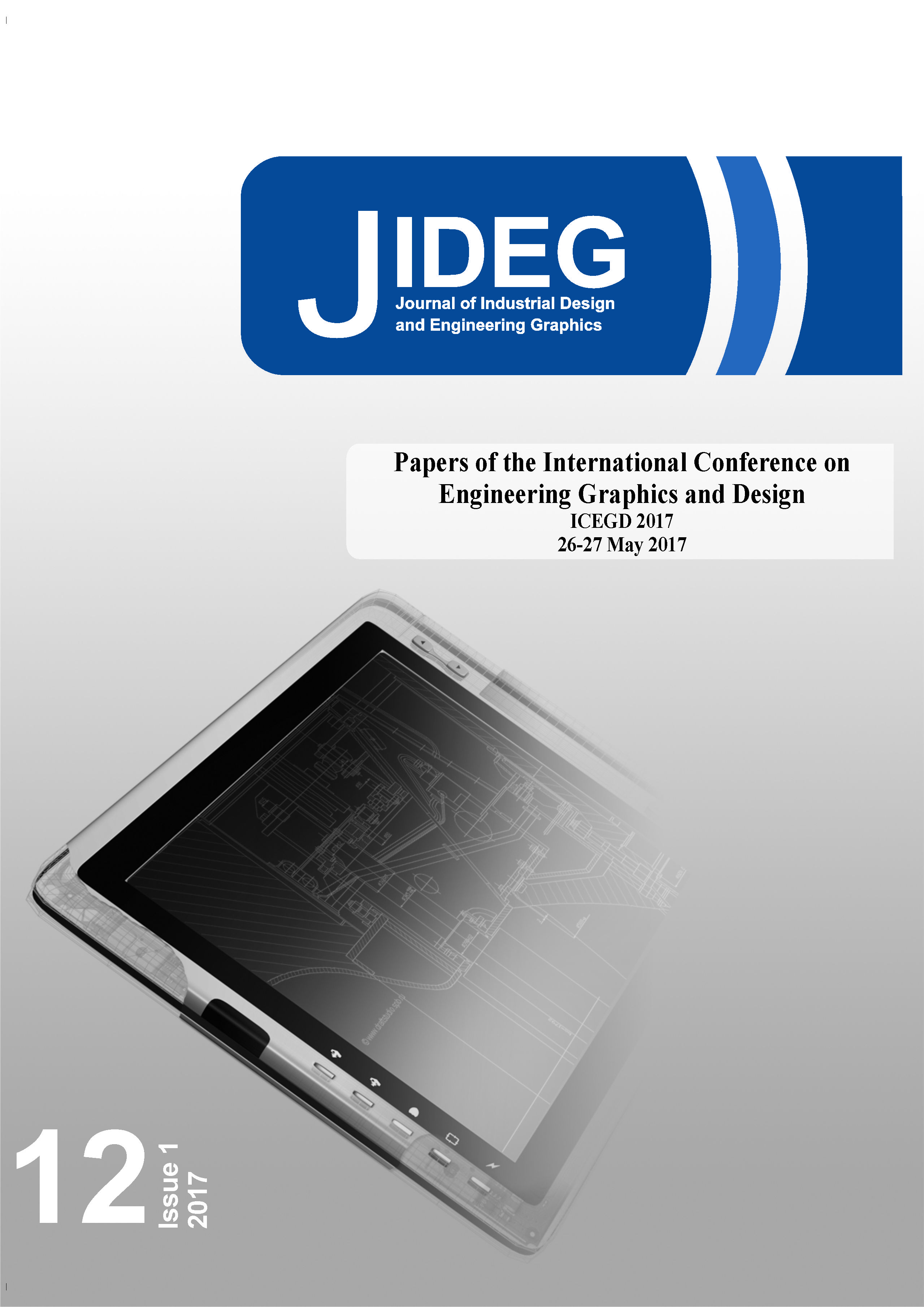 Downloads
Section
Industrial Design and Graphic Design
License
Copyright (c) 2021 Journal of Industrial Design and Engineering Graphics
This work is licensed under a Creative Commons Attribution-NonCommercial 4.0 International License.