METHODS FOR THE REPRESENTATION OF THE HELICOIDAL SURFACE
Keywords:
descriptive geometry, helix, helicoidal surface, stairs, right helicoid, CAD representations
Abstract
In this paper there are presented the graphical methods to determine the parameters of an helicoidal stairs. The first part of this paper shows the used methods to generate the helicoidal curves using descriptive geometry methods. It has represented the state of the art of the generation of a helical surface studies. The second part of this study shows the helical stairs surface representation using descriptive geometry methods. For the representation of the helicoidal stairs are used two projections, the front and top view. A method of the stairs representation is solved using CAD modelling dedicated software. Following the helical surface representation in both methods, has been achieved a comparative study by using two representation methods. Conclusions about these two representation methods are presented in the end of this paper.
Downloads
Download data is not yet available.
References
Bodea, M., Scurtu, L. (2016). Descriptive geometry
and technical drawing (Geometrie descriptiva ?i
desen tehnic), Risoprint publisher, ISBN 978-973-53-
-1, Cluj-Napoca.
Botez, M. (1982). Descriptive geometry (Geometrie
descriptiva), Didactic and pedagogic publisher,
Bucharest.
Enache, I., Ivanceanu, T., Buzila, V. (1982).
Descriptive geometry and technical drawing -
Syntheses and applications (Geometrie descriptiva si
desen tehnic-Sinteze si aplicatii), Didactic and
pedagogic publisher, Bucharest.
Inzerillo, L. (2012). Helicoid and Architectural
application (L'elicoide e le sue applicazioni in
architettura), Journal: DISEGNARECON, vol.5,
Issue 10, ISSN 1828-5961.
Marza, C., Cimpean, D., Corsiuc, G. (2015). About
the geometry and the applications of the twisted
surfaces, Journal of industrial design and engineering
graphics, Volume 10, Special Issue ICEGD.
Orban, M. (2004). Descriptive geometry -Syntheses
and applications (Geometrie descriptiva-Sinteze ?i
aplica?ii), U.T. Press Publisher, ISBN 973-662-020-4,
Cluj-Napoca.
Rorres, C. (January 2000). The turn of the screw:
optimal design of an Archimedes screw, Journal of
hydraulic engineering, Vol. 126, Issue 1, pp. 72-80,
DOI: http: //dx.doi.org/10. 1061/(ASCE)0733-
(2000) 126:1(72).
Surynkova, P. (2012). 3D Geometric modeling,
International conference on communication, media,
technology and design, Istanbul.
http://www.oobject.com/category/18-spiral-ramps/,
Accesed: 2017-03-15.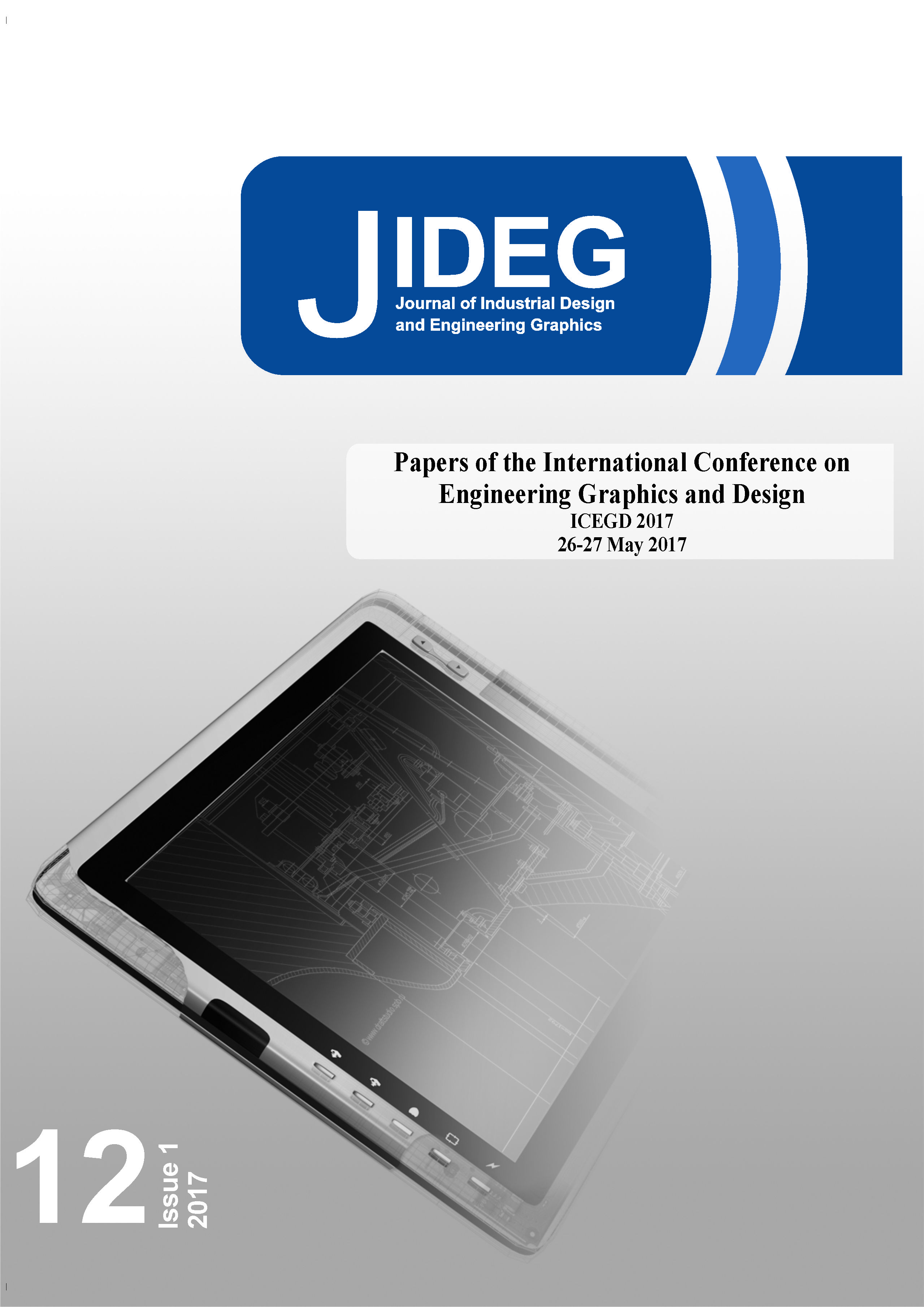 Downloads
Section
Theoretical Geometry and Graphics Section
License
Copyright (c) 2021 Journal of Industrial Design and Engineering Graphics
This work is licensed under a Creative Commons Attribution-NonCommercial 4.0 International License.