DESIGN OPTIMIZATION METHOD USED IN MECHANICAL ENGINEERING
Keywords:
topological optimization, shape design, finite element analysis, agricultural tools
Abstract
This paper presents an optimization study in mechanical engineering. First part of the research describe the structural optimization method used, followed by the presentation of several optimization studies conducted in recent years. The second part of the paper presents the CAD modelling of an agricultural plough component. The beam of the plough is analysed using finite element method. The plough component is meshed in solid elements, and the load case which mimics the working conditions of agricultural equipment of this are created. The model is prepared to find the optimal structural design, after the FEA study of the model is done. The mass reduction of part is the criterion applied for this optimization study. The end of this research presents the final results and the model optimized shape.
Downloads
Download data is not yet available.
References
Optimization Techniques: An Overview, Chapter 2,
http://www.springer.com/cda/content/document/cda_
downloaddocument/9783642378454-
c2.pdf?SGWID=0-0-45-1425030-p175100176.
Accessed: 2016-08-09
http://www.resist.pub.ro/Cursuri_master/OS/
OS_ Curs_03.pdf, Accessed: 2016-09-10
Schneider, D., Erney, T. (2008). Combination of
Topology and Topography Optimization for sheet
metal structures, Altair Engineering GmbH, Germany,
DaimlerChrysler, Germany
Shinde, G., Kajale, S. (2012). Design Optimization in
Rotary Tillage Tool System Components by Computer
Aided Engineering Analysis, International Journal of
Environmental Science and Development, Vol. 3, No.
, June 2012, pp. 279-282
Bendsoe, M., Sigmund O. (2003). Topology
Optimization, Theory, Methods and Applications,
ISBN 3-540-42992-i Springer-Verlag Berlin
Heidelberg, New York
Scurtu, L., Bodi, S., Dragomir, M. (2015).
Optimization Method Applied in CAD Based
Furniture Design, Acta Technica Napocensis Series:
Applied Mathematics, Mechanics, and Engineering
Vol. 58, Issue IV, November, 2015, pp. 559-562,
ISSN: 1221 – 5872
Joshi, R., Saxena, R. (2015). Topological Optimization
of an L-shaped Bracket Subjected to Different Loading
Conditions, International Journal for Research in
Applied Science & Engineering Technology
(IJRASET), Volume 3 Issue VIII, August 2015, pp.
-194, ISSN: 2321-9653
Altair Hyperworks
http://www.altair.com/History.aspx; Accessed: 2016-
-09
Optistruct – User manual, Accessed: 2016-10-12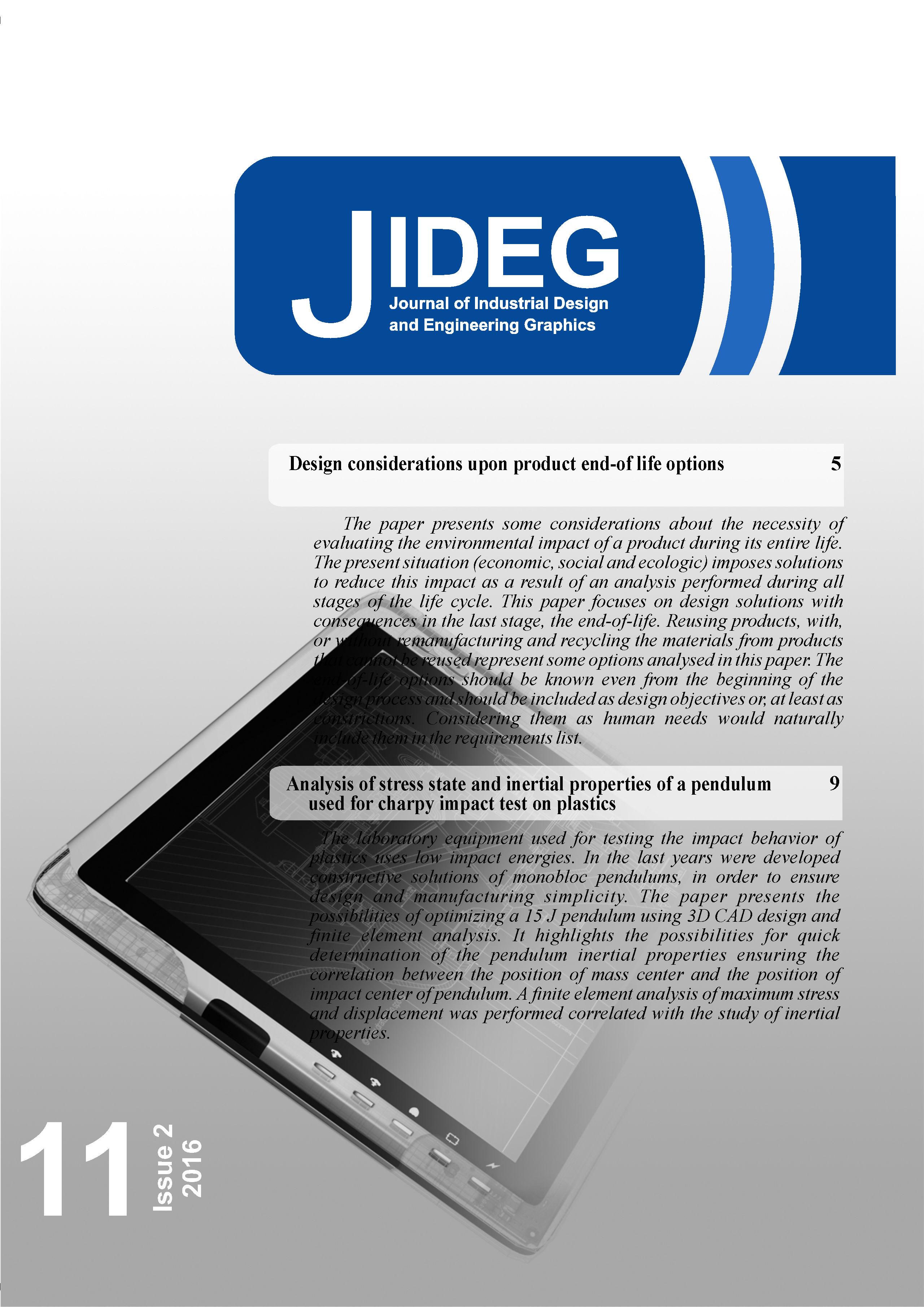 Downloads
License
Copyright (c) 2021 Journal of Industrial Design and Engineering Graphics
This work is licensed under a Creative Commons Attribution-NonCommercial 4.0 International License.