THE CONCEPT AND 3D MODELING OF THE CAR BODY IN CATIA V5
Keywords:
car body, concept, surfaces, superstructure, substructure, Catia V5
Abstract
Catia V5 is a reference program in the field of computer-aided design which offers an integrated solution, in addition to common solid-state modelling features characteristic to all representative applications. Furthermore, it puts at disposal stylistic modules available to specialists, allowing the development of computer usage even in pre-construction stages. This paper presents the main design steps and the 3D representation of a car body using the design leading software, Catia V5. Two subassemblies are considered, front part and passenger compartment. General considerations of surface generation in automotive car body design are highlighted. Sketching modules were used in order to create the conceptual sketch, in which the required geometries for the solids were drawn, the Part Design module, in which the solid parts of the car body were made, the Assembly Design module, the module in which the car body components were imported and assembled, the Sketch Tracer module, a module in which real-world scale shots are imported to create a custom concept, and the Freestyle module, in which the 3D lines of the car body were drawn, after which the areas for surface generation were filled.
Downloads
Download data is not yet available.
References
https://shockingsolutions.wordpress.com/, Accessed: 2018-10-18.
Hirz, M., Dietrich, W., Gfrerrer, A., Lang, J. (2013). Integrated Computer-Aided Design in Automotive Development, Springer-Verlag Heidelberg.
Fra?ila, Gh., Fra?ila, M., Samoila, St. (1998). Automobiles – knowledge, maintaining and reparation EDP R.A., Bucure?ti.
Happian-Smith, J. (2002). An Introduction to Modern Vehicle Design. Reed Educational and Professional Publishing Ltd., ISBN 07506 5044 3.
Baldean, D. (2014). Automobiles construction and calculus – course support, UT Press, Cluj-Napoca.
https://www.motoringresearch.com/car-news/newhyundai-tucson-revealed-sketch, Accessed: 18-10-18.
https://law.resource.org/pub/us/cfr/ibr/005/sae.j1100.2001.html, Accessed: 2018-10-18.
http://vaie.vn/wpcontent/uploads/2016/09/Reference_vehicle_3D.jpg
Untaru, M., et al (1982). Automobiles calculus and construction, Ed. Didactica si Pedagogica, Bucuresti.
Neagu, M., Oana, A. (2008). Geometrie superioara în plan si în spa?iu, Ed. Univ. "Transilvania" Bra?ov.
https://www.3ds.com/, Accessed: 2018-10-10.
Alexandru, V., Bejenaru, S., Baroiu, N. (2002). Computer aided graphic, Ed. Fund. Univ., Galati.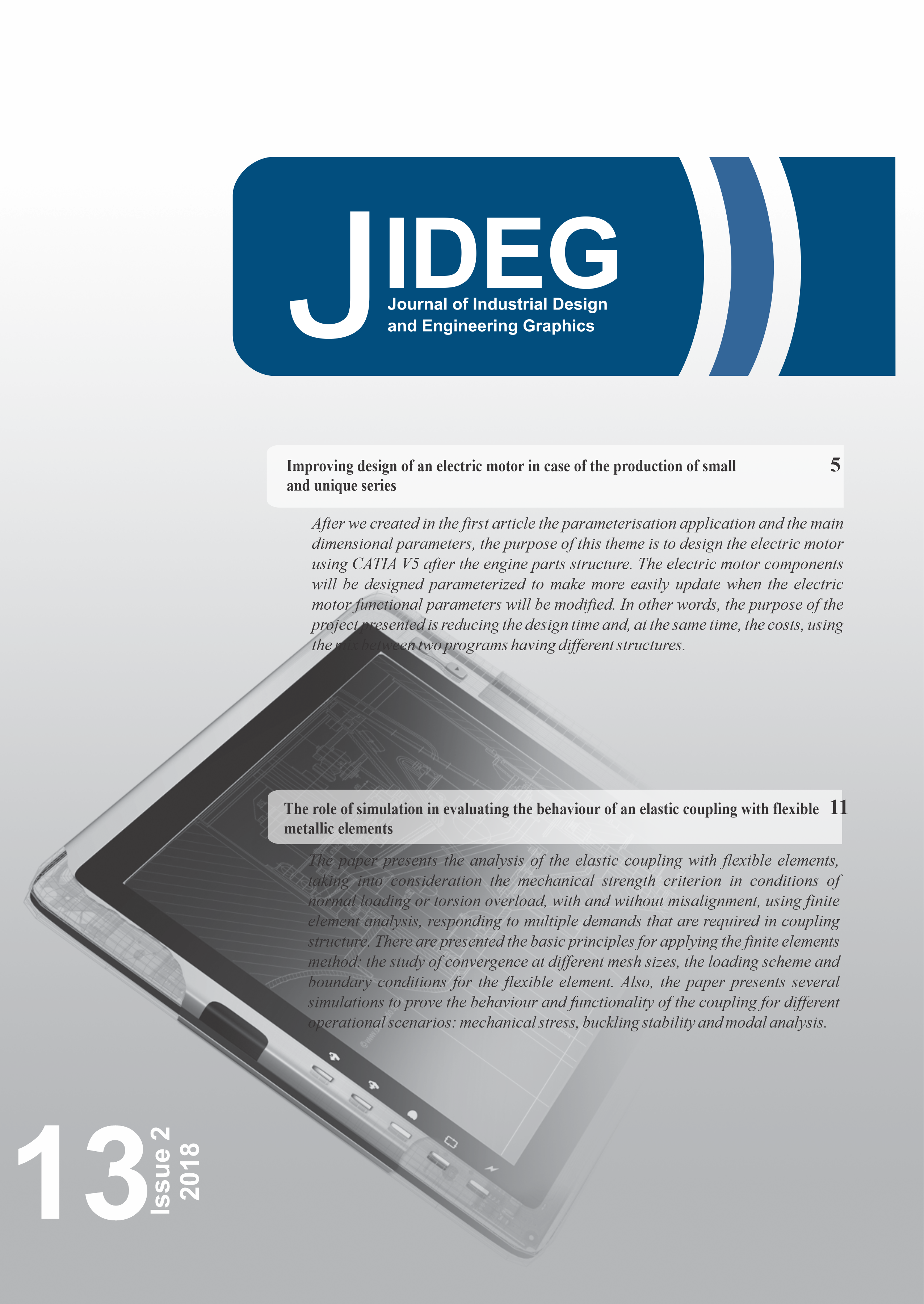 Downloads
License
Copyright (c) 2020 Journal of Industrial Design and Engineering Graphics
This work is licensed under a Creative Commons Attribution-NonCommercial 4.0 International License.