GRAPHIC MODELING OF A DRILLING FIXTURE AS A PART OF EMCO MILL 55 CNC MILLING AND DRILLING SYSTEM
Keywords:
EMCO MILL, CNC machine, fixture, helical drill
Abstract
The paper presents a drilling fixture that fits on the EMCO MILL 55 CNC working table for machining the holes of some blanks made of materials having low and average hardness. The modeling was carried out with Autodesk Inventor software package, highlighting the essential controls, from basic sketches to the completion of the component parts, respectively the final assembly. At the same time, the paper presents a brief theoretical calculation of the necessary force for fixing the blank into the fixture. Based on the fixture elements, the physical model of the drilling device was drawn. Moreover, a double- straight edged helical drill used for the drilling process was modeled in CATIA environment.
Downloads
Download data is not yet available.
References
Popescu, I., Minciu, C., Tanase, I. s.a. (2004). Scule
a?chietoare - dispozitive de prindere a sculelor
a?chietoare - dispozitive de prindere
a semifabricatelor - mijloace de masurare, ISBN
-685-741-7, Ed. Matrix Rom, Bucure?ti
Voicu, T. s.a. (1985). Elemente de proiectare a
dispozitivelor pentru ma?ini-unelte, Ed. Tehnica,
Bucure?ti
Susac, F., Tabacaru, V. (2015). Programarea
sistemelor integrate de productie. Tehnologii de
frezare si gaurire pe EMCO MILL 55 CNC. Tehnologii
CAD – CAM. Simulare proces. Programare 2,5 Axe.
Aplicatii, Gala?i
Alexandru, V., Bejenaru, S., Baroiu, N. (2002).
Grafica asistata de calculator, ISBN 973-8352-33-9
Ed. Fundatiei Universitare, Galati
Stancescu, C. (2009). Modelarea parametrica si
adaptiva cu Inventor – Vol. I si II, ISBN 978-973-
-4-9, Editura Fast, Bucuresti
*** http://usa.autodesk.com/autodesk-inventor.
Accessed 03.2016
*** http://www.nxsiemens.com. Accessed 04.2016
*** http://www.3ds.com. Accessed 05.2016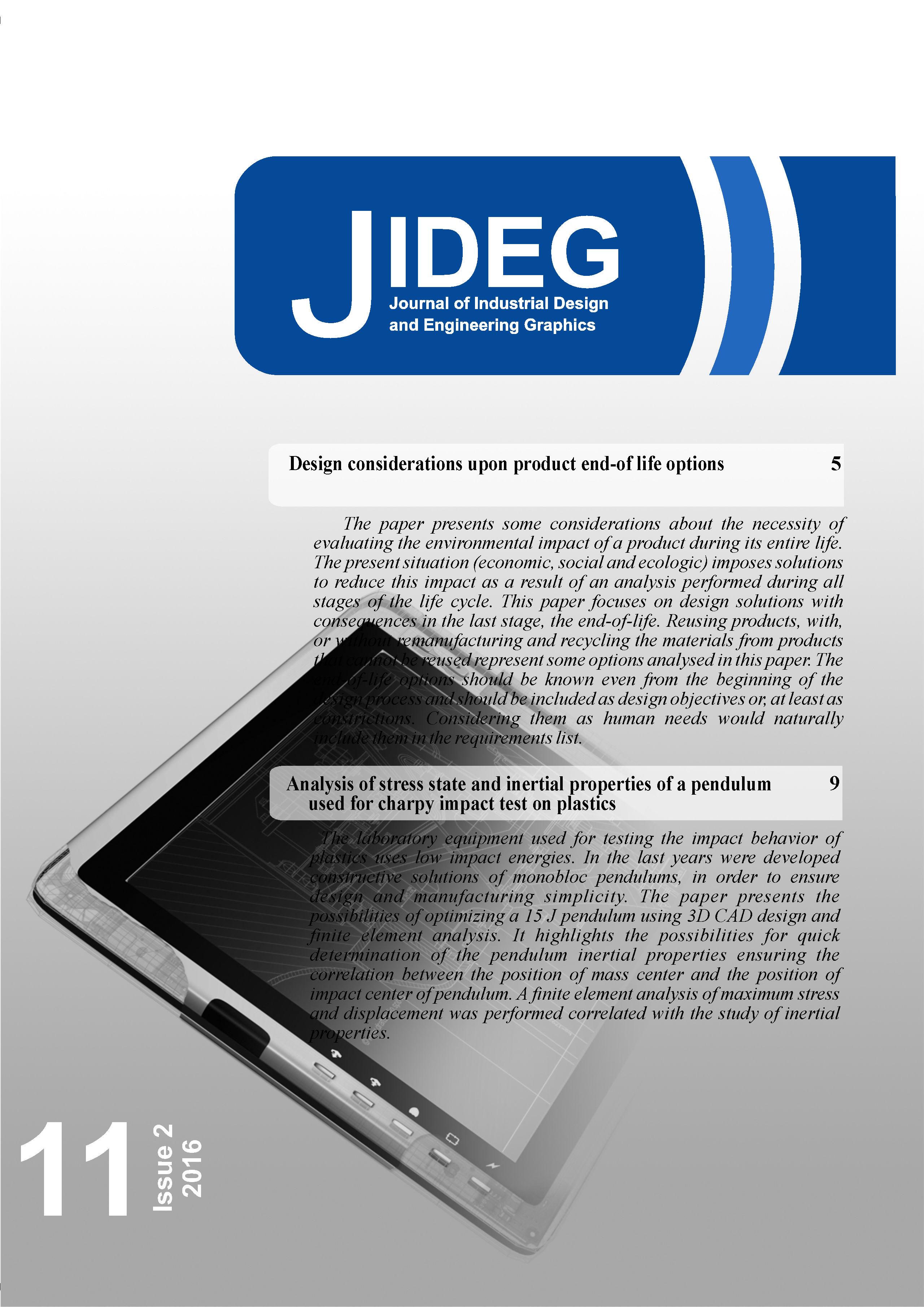 Downloads
License
Copyright (c) 2021 Journal of Industrial Design and Engineering Graphics
This work is licensed under a Creative Commons Attribution-NonCommercial 4.0 International License.