DELTA 3D PRINTER
Keywords:
engineering, art, sculpture, metal, Autodesk Inventor
Abstract
3D printing is a very used process in industry, the generic name being "rapid prototyping". The essential advantage of a 3D printer is that it allows the designers to produce a prototype in a very short time, which is tested and quickly remodeled, considerably reducing the required time to get from the prototype phase to the final product. At the same time, through this technique we can achieve components with very precise forms, complex pieces that, through classical methods, could have been accomplished only in a large amount of time. In this paper, there are presented the stages of a 3D model execution, also the physical achievement after of a Delta 3D printer after the model.
Downloads
Download data is not yet available.
References
Lennings, L. (2000). Selecting either layered
manufacturing or CNC machining to build your
prototype, Rapid Prototyping & Manufacturing
Conference, Chicago, Illinois – USA.
Oprea, E., Dumitrascu, A., Boricean, D. (2010).
Simularea si analiza folosind prototipul virtual,
Editura Qual Media, Cluj-Napoca, ISBN 978-606-
-06-0.
Schnakovszky, C., s.a. (2008). Reverse engineering
for automotive industry, Annals of the Oradea
University, Fascicle of Management and
Technological Engineering, Volume VII (XVII), pp.
– 1774.
*** http://visionandrobotics.nl/; Accessed 05.2015.
*** http://m.dhgate.com/; Accessed 04.2015.
Stancescu, C. (2009). Modelarea parametrica si
adaptiva cu Inventor, Editura Fast, ISBN 978-973-
-3-2.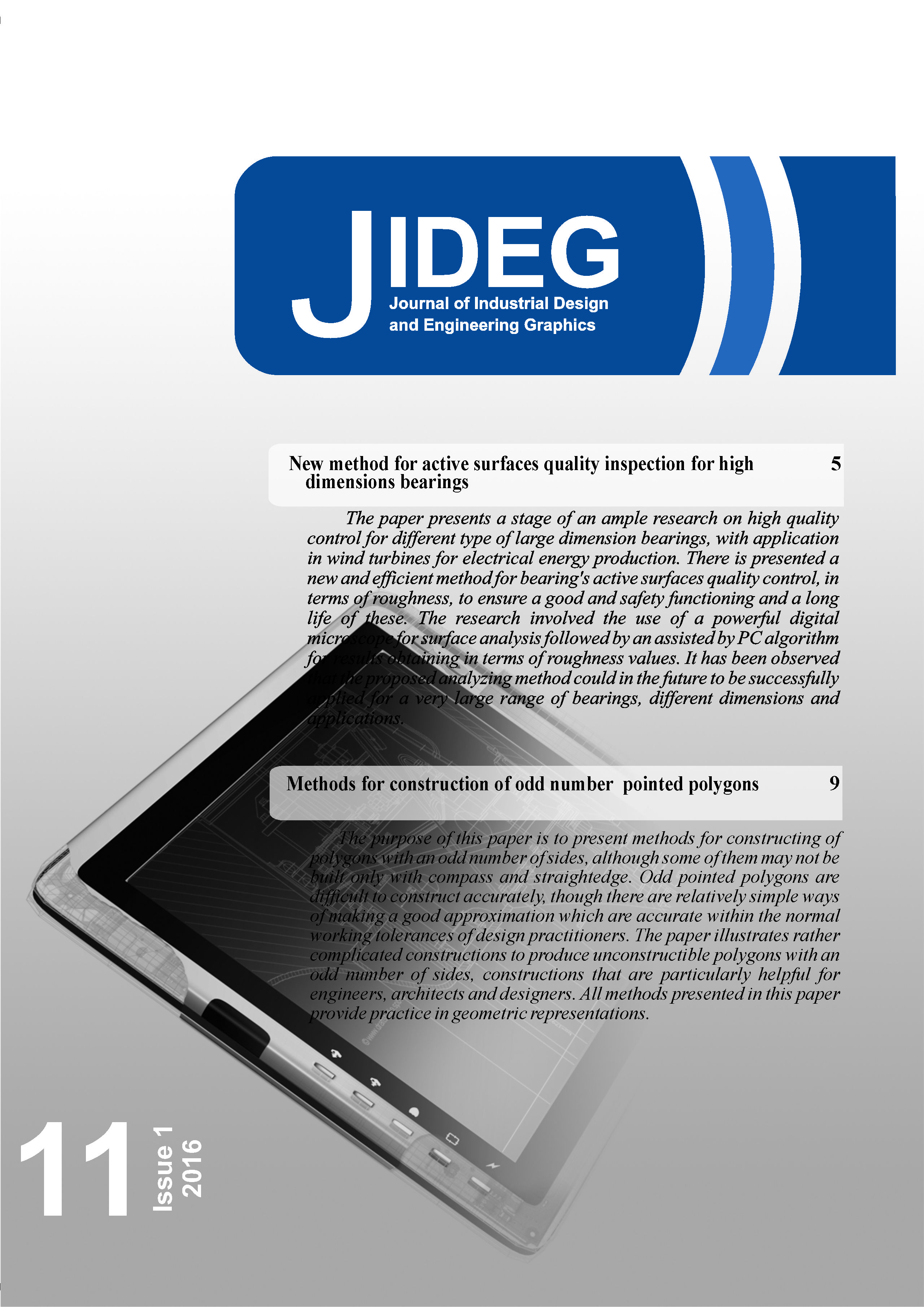 Downloads
License
Copyright (c) 2021 Journal of Industrial Design and Engineering Graphics
This work is licensed under a Creative Commons Attribution-NonCommercial 4.0 International License.