VIRTUAL TEST APPLIED ON A 3D MODEL OF VERTEBRAL COLUMN
Keywords:
CAD, CAE, virtual spine, vertebrate, intervertebral disc
Abstract
In this paper we have detailed the CAD methods that led to the obtaining of vertebrae and intervertebral discs. Initially, all the vertebrae from a corpse were scanned three-dimensionally. These models have been taken over in the Geomagic program where replenishment, triangle reduction and finishing techniques have been applied. These surface models were imported into SolidWorks where they were transformed into virtual solids. In the Assembly module, all the virtual vertebrae were loaded where they were positioned anatomically. A system of vertebrae L4, L5 and intervertebral disc was analyzed in Ansys Workbench. Finally, important conclusions were drawn.
Downloads
Download data is not yet available.
References
Antonescu, D., Obrascu, C., Ovezea, A. (2017). Correcting the spine, (Corectarea coloanei vertebrale), Ed. Medicala, ISBN 978-973-39-0824-1, Bucharest, Romania.
Bendelic, A., Functional spinal anatomy, Course notes, USMF N. Testemitanu, Chisinau, Moldavia.
Buciu, G., Popa, D.L., Grecu, D., Niculescu, D., Nemes, R. (2012). Virtual comparative study on the use of nails at the fixation of tibial fractures using finite element method, Proceedings of The 4th International Conference Advanced Composite Materials Engineering COMAT 2012, Lux Libris Publishing House, ISBN 978-973-131-162-3, pp.381-386, Brasov, Romania.
Ciunel, S., Duta, A., Popa D.L., Popa-Mitroi, G., Dumitru, V.C. (2014). The Behavior of the Virtual Human Head-Neck System during the Main Movements, Applied Mechanics & Materials, no.657, pp. 780-784.
Popa A.D., Mogosanu A.M., Popa D.L., Duta A., Teodorescu A. (2017). Virtual and rapid prototyping methods applied in civil engineering: Snow, wind and earthquake simulations on a five storey building, FME Transactions, vol. 45, no. 2, pp. 276-282.
Popa, D., Duta, A., Pitru, A., Tutunea, D., Gherghina, G. (2013). About the Simulation Environment for Dental Implant Studies, Scientific Bulletin of the POLITEHNICA University of Timisoara HIDROTEHNICA Series, vol. 58, pp. 137-141.
Tarnita D., Tarnita D.N., Bizdoaca N., Popa D. (2009). Contributions on the dynamic simulation of the virtual model of the human knee joint, Materialwissenschaft und Werkstofftechnik: Entwicklung, Fertigung, Prüfung, Eigenschaften und Anwendungen technischer Werkstoffe, vol. 40, no. 1-2, pp. 73-81.
Authors: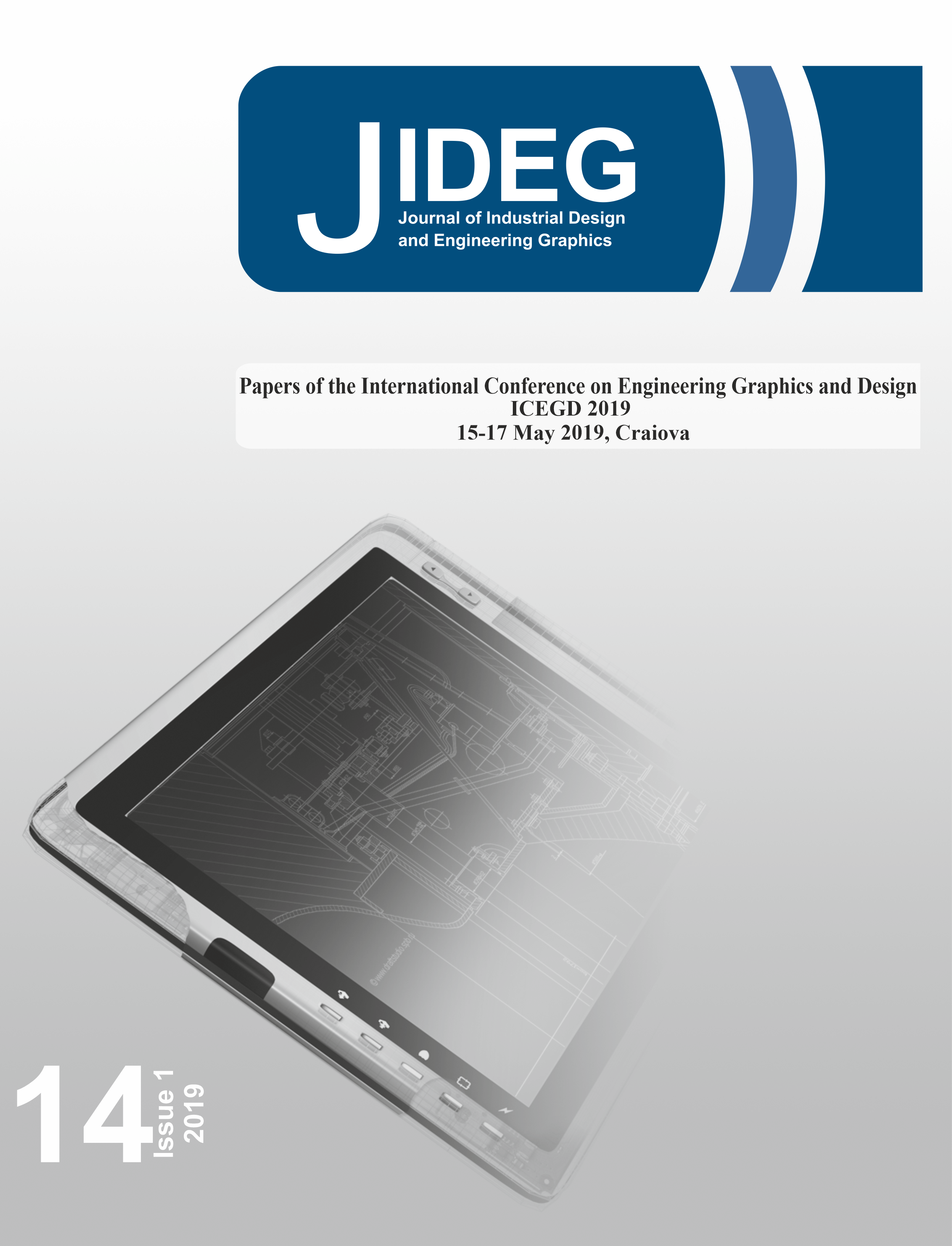 Downloads
Section
Engineering Computer Graphics
License
Copyright (c) 2020 Journal of Industrial Design and Engineering Graphics
This work is licensed under a Creative Commons Attribution-NonCommercial 4.0 International License.