VIRTUAL HUMAN HIP JOINT OBTAINED FROM CT IMAGES AND FEM TEST
Keywords:
Virtual hip, normal walking loads, pubic symphysis, virtual test, bone models
Abstract
Hip joint is one of the most complicated in the human body. It is complex due to the complicated geometry, but also to the biomechanics of this joint. Initially, three-dimensional scanning of a femur was attempted, but due to the fact that only the outer geometry could be obtained, this method was dropped. Computational methods have been used that based on identifying shades of gray on tomographic images and transposing them into geometries (surfaces). These surfaces processed with the Geomagic program were transformed into virtual solids in SolidWorks. In this program, bone components were assembled and pubic symphysis was modeled. Finally, the model was exported to Ansys where, based on normal walking loads, a finite element method simulation was performed. At the end of the paper interesting conclusions were highlighted.
Downloads
Download data is not yet available.
References
Buciu, G., Popa, D.L., Grecu, D., Niculescu, D., Nemes, R. (2012). Virtual comparative study on the use of nails at the fixation of tibial fractures using finite element method, Proceedings of The 4th International Conference Advanced Composite Materials Engineering COMAT 2012, Lux Libris Publishing House, pp.381-386, ISBN 978-973-131-162-3, Brasov, Romania.
Ciunel, S., Duta, A., Popa D.L., Popa-Mitroi, G., Dumitru, V.C. (2014). The Behavior of the Virtual Human Head-Neck System during the Main Movements, Applied Mechanics & Materials, no.657, pp. 780-784.
Popa A.D., Mogosanu A.M., Popa D.L., Duta A., Teodorescu A. (2017). Virtual and rapid prototyping methods applied in civil engineering: Snow, wind and earthquake simulations on a five storey building, FME Transactions, vol. 45, no. 2, pp. 276-282.
Popa, D., Duta, A., Pitru, A., Tutunea, D., Gherghina, G. (2013). About the Simulation Environment for Dental Implant Studies, Scientific Bulletin of the POLITEHNICA University of Timisoara HIDROTEHNICA Series, vol. 58, pp. 137-141.
Popa, D., Tarnita, D., Iordachita I. (2005). Study method for human knee applicable to humanoid robots, Proceedings of The 14th International Workshop on Robotics in Alpe-Adria-Danube Region, RAAD, vol.5, pp.26-28.
Popa, D., Tarnita, D.N., Tarnita, D., Grecu, D. (2005). The generation of the three-dimensional model of the human knee joint, Romanian Journal of Morphology and Embryology, vol.46, no.4, pp. 3-6.
Vatu, M., Crai?oiu, M.M., Vintila, D., Mercu?, V., Popescu, M.S., Scrieciu, M., Popa, D..L. (2018). Determination of resistance forces from mandibular movements through dynamic simulation using kinematic analysis and finite elements method, Romanian Journal of Oral Rehabilitation, Vol. 10, Issue 1, pp. 20-28.
Vatu, M., Vintila, D., Popa, D.L. (2018). 3D Skull Virtual Model Based on CT or MRI Images Used for Dentistry Simulations, Applied Mechanics and Materials, Vol. 880, pp. 101-110.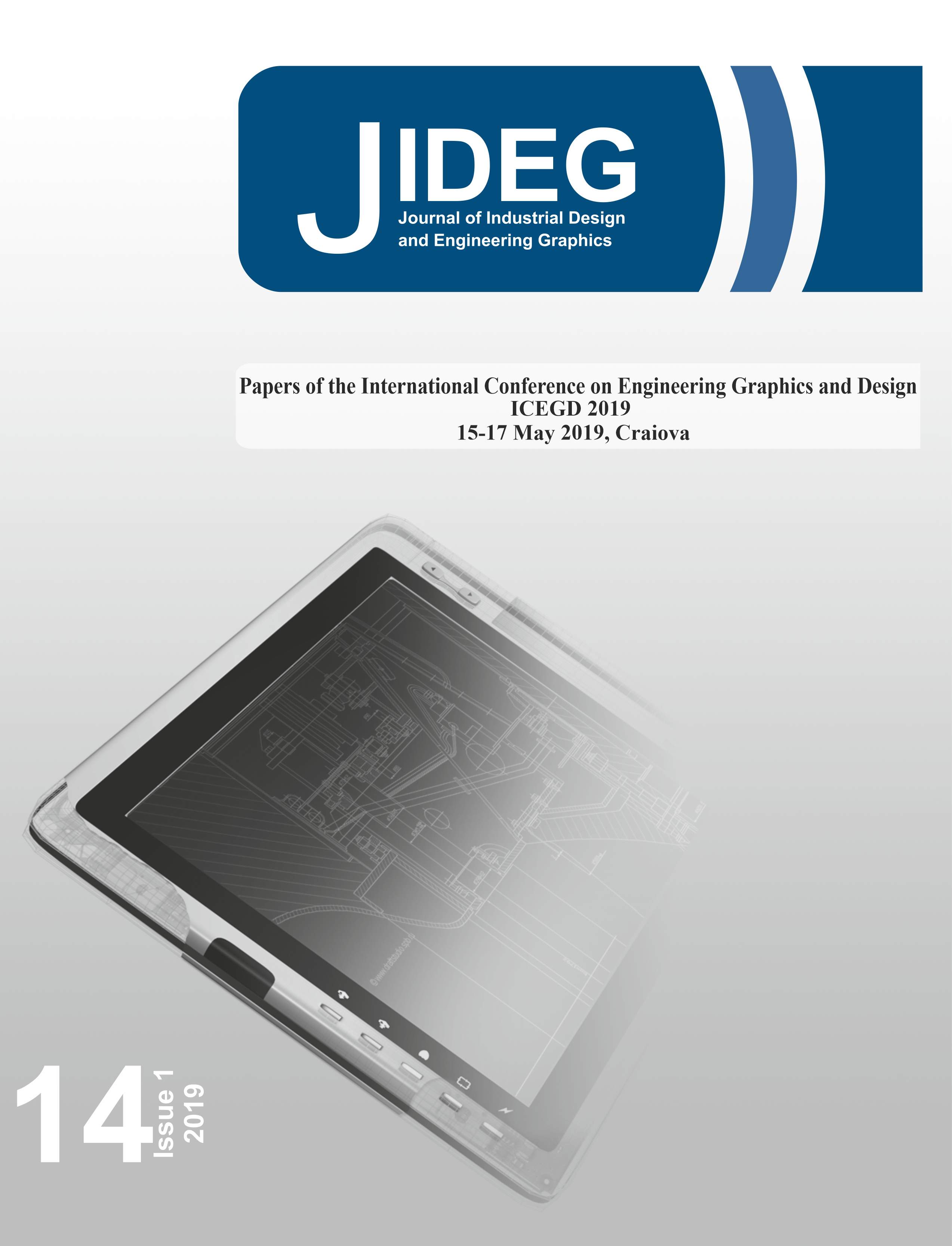 Downloads
Section
Engineering Computer Graphics
License
Copyright (c) 2020 Journal of Industrial Design and Engineering Graphics
This work is licensed under a Creative Commons Attribution-NonCommercial 4.0 International License.