SPRAYER INSTALLATION ATTACHED TO THE AGRICULTURAL TRACTOR
Keywords:
agricultural equipments, sprayer installation, tractor, assembly, three-dimensional modelling
Abstract
A continually development of the global market economy has in foreground a strong increase in consumer goods demand and offer. The agricultural products have a significant share of total transactions performed on the market. Therefore, it is important that on the cultivated field areas to be obtained optimum harvests that ensure a continuous farms development based on higher crop yields. Today there are many solutions to make the agriculture more efficient regarding crops yield obtained. The use of herbicides aims to maintain the farm lands clean of weeds that may have harmful effects on crops. They can be administered mechanized on large areas using herbicides autonomous installations or attached to the tractor. The agricultural tractor is the machine that performs most of the mechanized works in farmlands using attached auxiliary equipment. The agricultural auxiliary equipments have undergone a continuous development over time. This paper performs a functional description for the sprayer installation assembly that can be attached to the agricultural tractor.
Downloads
Download data is not yet available.
References
Axinti, G., Actionari hidraulice si pneumatice,
Editura "Tehnica-Info", ISBN 978-9975 Chisinau,
.Vasilache, L., (2012). Influence of the three-point
linkage on the wheel tractor dynamics, available at:
http://webbut.unitbv.ro/teze/rezumate//rom/Vasilach
eLilian.pdf, accessed at 2015-03-11
?cheaua, F., Nedelcut, F., (2012). Energy dissipation
device using fluid dampers, The Annals of "Dunarea
de Jos" University of Galati, Fascicle XIV
Mechanical Engineering Volume 2 Issue XX, ISSN
-5615, Galati.
Fodor, A., N., Cercetari privind optimizarea
mentenantei tractoarelor agricole, (2011), available
at:
http://www2.unitbv.ro/LinkClick.aspx?fileticket=e4s
jdz-m56w%3D&tabid=4579, accessed at 2015-03-
Dobre, P., Tractoare si masini horticole, (2009),
available at: http://www.horticultura
bucuresti.ro/fisiere/file/Manuale%20An%20I%20Ho
rti%20invatamant%20la%20distanta/Baza%20energ
etica%20I.pdf, accessed at 2015-03-12
Abdulkadir B., H, Abolarin M., S., Olufemi A., O.,
Ugwuoke I., C., The Design and Construction of
Maize Threshing Machine, (2009), available at:
http://www.journal.au.edu/au_techno/2009/jan09/12
(3)8MaizeThreshing.pdf, accessed at 2015-03-12
Hussein O. A., (2010). Agriculture machines,
available at:
http://www.tvtc.gov.sa/English/Departments/Depart
ments/cdd1/p1/p4/Documents/AGRICULTURE%20
MACHINES.pdf, accessed at 2015-03-12
?cheaua, F., Axinti G., (2010). Seismic protection of
structures using hydraulic damper devices, The
annals of Dunarea de Jos University, Vol II.
?cheaua, F., (2014). Model of hydraulic suspension
mechanism for agricultural tractor, JIDEG
Magazine, ISSN 2344-4681, Volume 9, Issue No. 1,
pp. 29-32.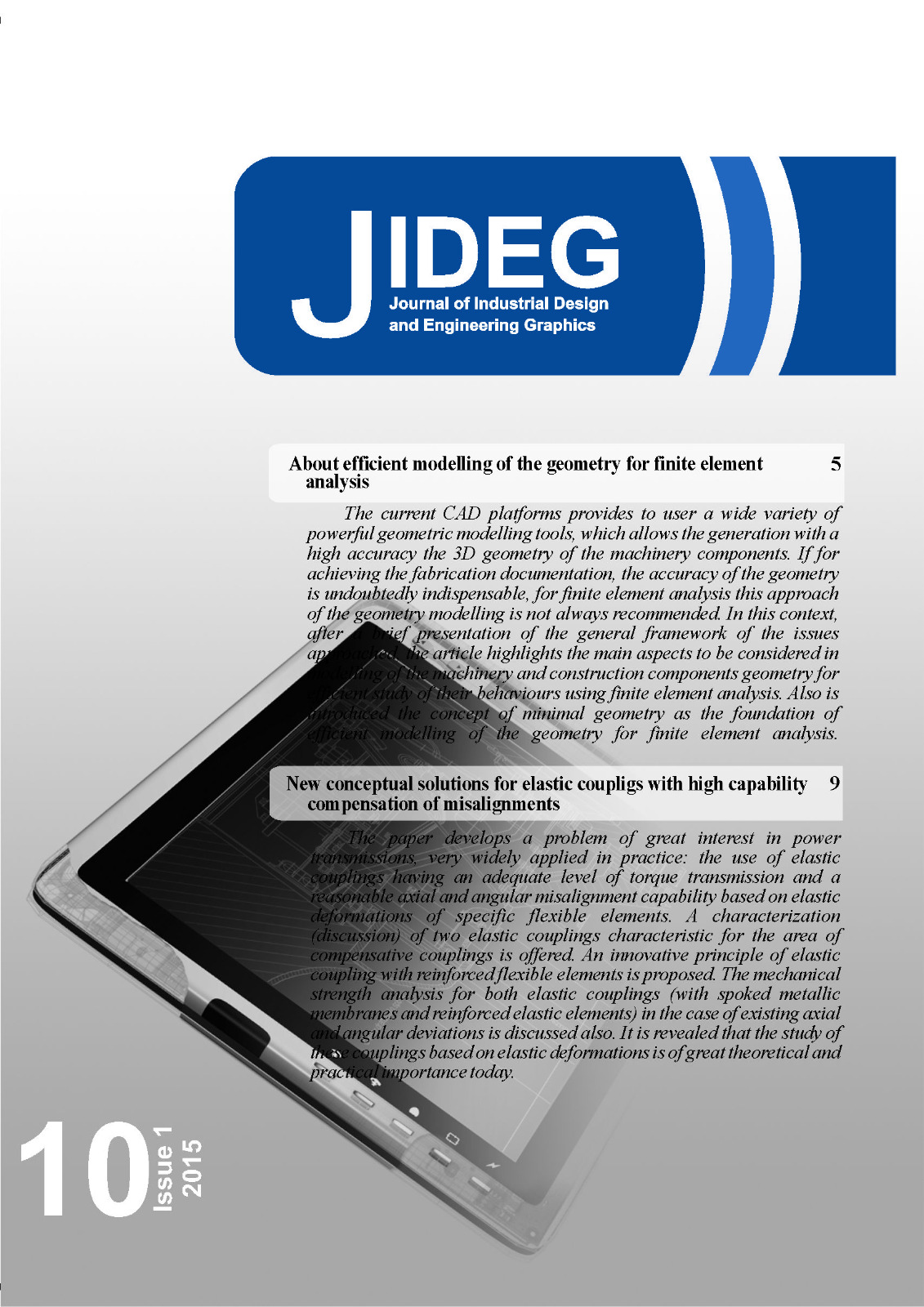 Downloads
License
Copyright (c) 2021 Journal of Industrial Design and Engineering Graphics
This work is licensed under a Creative Commons Attribution-NonCommercial 4.0 International License.