AGRICULTURAL FIELD IRRIGATION SOLUTION BASED ON VENTURI NOZZLE MODEL
Keywords:
fluid actuation, VENTURI effect, nozzle model, experimental modeling, CFD
Abstract
There are situations when the agricultural field irrigation requires water retrieved from the medium or deep groundwater reserves. For this solution submersible pumps are needed in order to take over the water from a certain depth and carry it to the surface to be stored in a tank or distributed directly to the irrigation plant. An alternative solution is represented by using a pumping system that can achieve a continuous water transport on a vertical direction from the source depth to the surface that comprises a centrifugal pump and a VENTURI nozzle positioned inside the well. In order to achieve this model a fluid driving circuit is required and special construction of the VENTURI tube by means of which the water is accelerated toward the surface. A 3D model of the VENTURI nozzle was built and analyzed with ANSYS CFX in order to highlight the operating parameters depending on the initially declared conditions. The obtained results are presented from the conducted analysis on the virtual model.
Downloads
Download data is not yet available.
References
Vasilescu, Al. A. (1979). Mecanica fluidelor,
Ministerul Educatiei ?i Înva?amântului, Universitatea
din Gala?i, Gala?i
Axinti, G., Axinti, A. S. (2009). Ac?ionari hidraulice
?i pneumatice, Vol III, Ed. Tehnica-Info, Chi?inau
Axinti, A., S., ?cheaua, F., D. (2015). Introducere în
hidraulica industriala, Galati University Press
www.termo.utcluj.ro/Fluc5.pdf, accessed at 2016-10-
www.globalspec.com/learnmore/flow_transfer_contro
l/pumps/jet_pumps, accessed at 2016-10-15
www.valco.eu/, accessed at 2016-10-17
www.cteskills.com/, accessed at 2016-10-20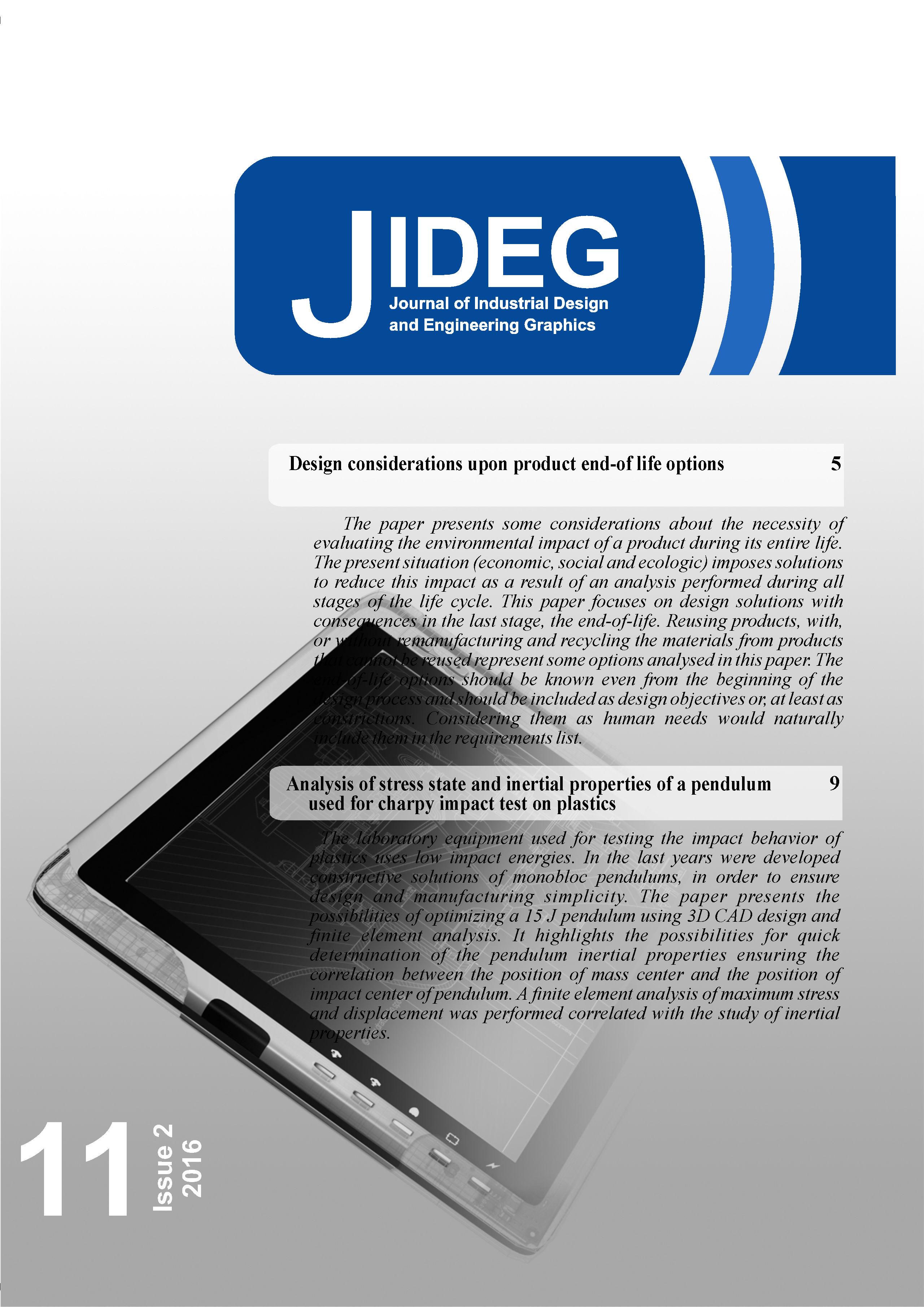 Downloads
License
Copyright (c) 2021 Journal of Industrial Design and Engineering Graphics
This work is licensed under a Creative Commons Attribution-NonCommercial 4.0 International License.