ASPECTS ON 3D DESIGN OF ASSEMBLIES AND PART LISTS CUSTOMIZING WITH INVENTOR 2016
Keywords:
Design, CAD, modelling, plane views, inteligent border, bill of material
Abstract
The paper aims to present some aspects of the 3D design of assemblies obtained with Inventor 2016 referring to the constrains to pieces placed in the overall file, achievement of new items directly in the assembly concerned, inserting standardized elements in "Content Center" like standardized wedges, safety washers, bearings, etc. The second part of the paper describes how to customize the parts list/table in the drawing.
Downloads
Download data is not yet available.
References
Petru Dumitrache - 3D parametric modelling
dedicated to group technology – JIDEG , Volume
Special Issue 2015, fascicle 3, ISSN1843-3766
Haraga G., Ghelase D.," Creating of the primitive
Shapes using AutoCAD", The Annals of "Dunarea
de Jos" University of Galati, Fascicle XIV,
Mechanical Engineering, CNCSIS code 220, "B+",
Indexed Journal BDI-CSA (Cambridge Scientific
Abstracts) ISSN 1224-5615, pp. 95-98, 2009.
Goanta A.M. – " Aspects on Transfer of Aided –
Design Files" International Conference ModTech
- Modern Technologies in Industrial
Engineering, 15-18 June 2016, Iasi, Romania,
publish by IOP Conf. Series: Materials Science and
Engineering 145 (2016) 042001 doi: 10.1088/1757-
X/145/4/042001, pp. 1-6 electronic version.
Haraga G. "Modeling eco-friendly products in CAD
systems", ICEGD International conference on
engineering graphics and design, Scientific
Bulletin of the "POLITEHNICA" University of
Timisoara, Transactions on Hydrotechnics, ISSN
- 6042, Tom 58 (72), Fascicola 1, CNCSIS
code 251, B+, pp. 45-48, 2013, 13-15 June,
Timisoara, Romania, 2013,
http://www.ct.upt.ro/icegd2013/ICEGD_2013.pdf
Stancescu C. – Modelare parametrica si adaptiva cu
Inventor – Editia a II-a, Bucuresti, Editura FAST,
, ISBN 978-973-86798-8-7.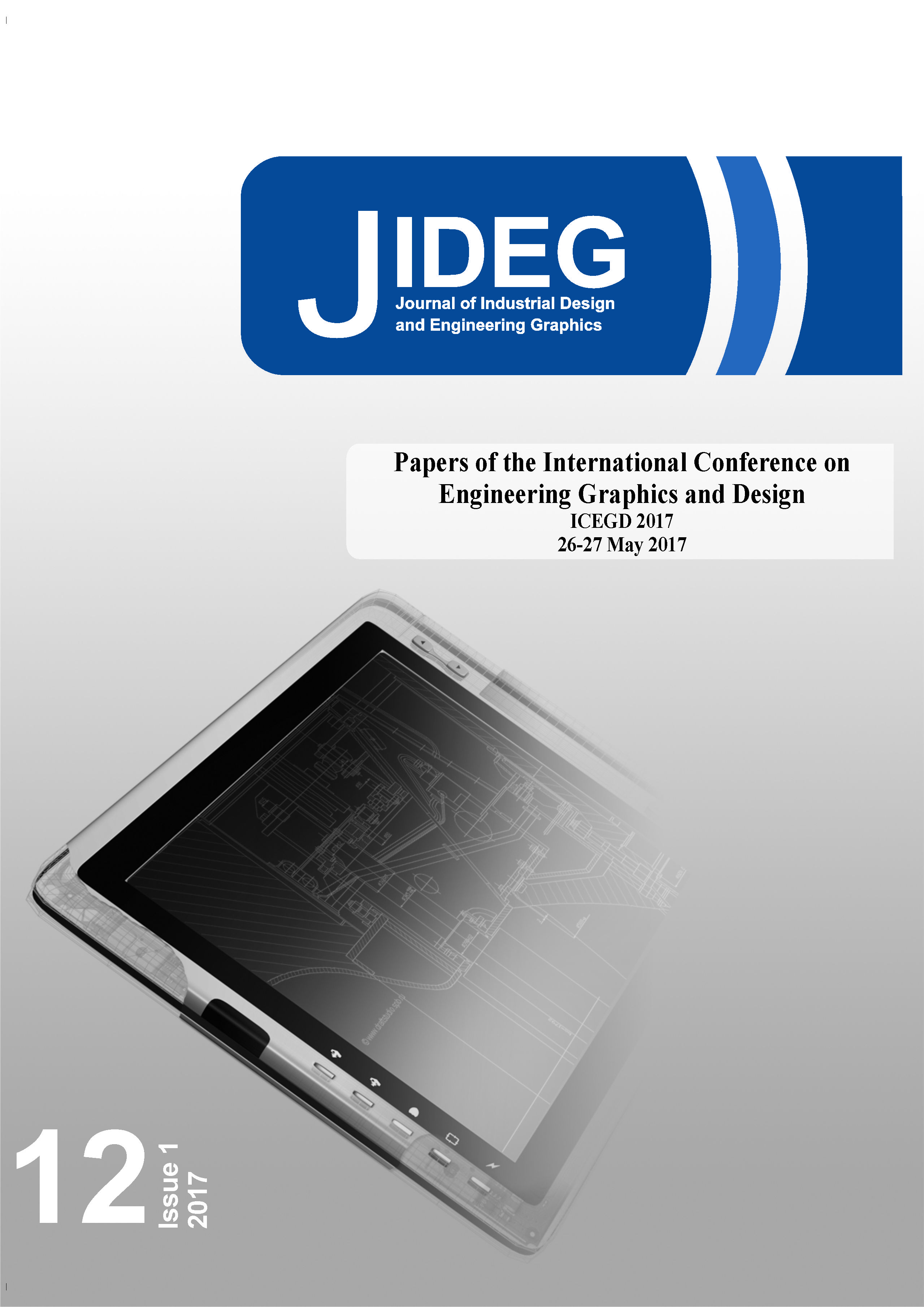 Downloads
Section
Engineering Computer Graphics
License
Copyright (c) 2021 Journal of Industrial Design and Engineering Graphics
This work is licensed under a Creative Commons Attribution-NonCommercial 4.0 International License.