ASPECTS OF OBTAINING ORTHOGONAL PROJECTIONS AND INTELLIGENT INDICATORS BY INVENTOR 2016
Keywords:
design, CAD, modelling, place views, inteligent border
Abstract
The paper aims to preset how to obtain the usual orthogonal projection of view type, sections, details, and auxiliary projections, screenings breaks starting from the 3D model of the designed part and using the special tools offered by Inventor Professional 2016. Also it will be highlighted how to obtain intelligent indicators which completes part of the necessary information automatically. The paper is thus a landmark in the work of execution drawings particularly useful to those users who employ Inventor 2016 software.
Downloads
Download data is not yet available.
References
Dumitrache, P., Parametric modelling of the
ROPS/FOPS protective structures geometry in
order to study of their behaviour using finite
element method– JIDEG, Volume 6 Issue No. 2 –
, ISSN 1843-3766.
Goanta A.M. – "Actual Performance 3D
Restrictions of Inventor 2015". International
Conference on Engineering Graphics and Design,
Brasov, 11-13 iunie, 2015, Published in the Journal
JIDEG – Journal of Industrial Design and
Engineering Graphics - official publication of
SORGING, Volume 10, Special Issue, fascicle 3,
pp. 29-32, ISSN 1843 – 3766, ISSN(online
version) 2344-4681.
Haraga G., Ghelase D., Daschievici L. "Modelling
of a drawing in three-dimensional space using
CAD System", Selected Topics in System Science
and Simulation In Engineering, 9th WSEAS
international conference on system science and
simulation in engineering (icossse '10), ISSN: 1792-
X, ISBN: 978-960- 474-230-1, pp.166-169,
Iwate Prefectural University, Japan, October 4-6,
, ISI Published by WSEAS
Press,http://www.wseas.us/elibrary/conferences/201
/Japan/ICOSSSE/ICOSSSE-25.pdf.
Goanta A.M. – "Siemens PLM Solution Applied to
the Design of Agriculture Facilities and
Equipment". Analele de Inginerie Mecanica ale
Facultatii de Inginerie din Braila, 2014, Issue Vol.
, ISSN 1224-5615, pag. 43-46.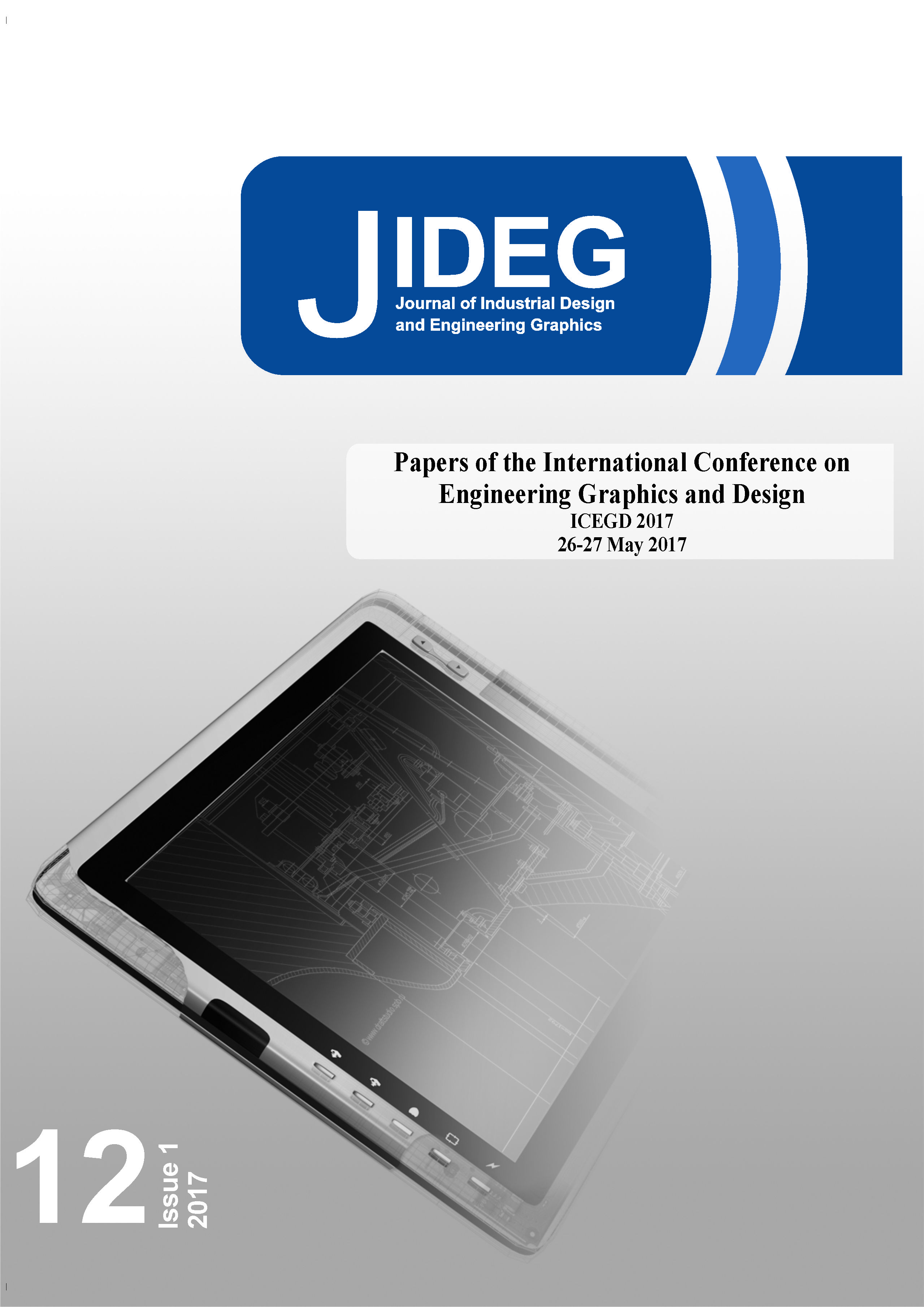 Downloads
Section
Engineering Computer Graphics
License
Copyright (c) 2021 Journal of Industrial Design and Engineering Graphics
This work is licensed under a Creative Commons Attribution-NonCommercial 4.0 International License.