CYLINDRICAL-CONICAL SURFACES INTERSECTION USING AUXILIARY SPHERES METHOD WITH MOBILE CENTER
Keywords:
intersection, auxiliary spheres method, cylinder, cone, torus
Abstract
The paper presents: intersection between two cylinders - one is a rotation cylinder and the other is an oblique circular cylinder; intersection between a rotation cylinder with an oblique circular cone. This method can be applied if the axes of the two surfaces are coplanar. The paper also presents the equations of the intersection curves which become simpler when the two surfaces are rotation cylinders. In this case the auxiliary spheres center is fixed at the axis intersection of the two rotation cylinders. The auxiliary spheres method with mobile center can be applied when a rotation cylinder is intersected with a torus or an oblique cone. The method is often used because it is rapid and allows intersection curve drawing using only a projection of the two surfaces.
Downloads
Download data is not yet available.
References
Aldea, S.(1979), Geometrie descriptiva , Studiul
suprafetelor si al corpurilor - Editura I.P.Bucuresti.
Arion, A., Dobrescu, T.G., Pascu N. E., (2014),
D Surface modeling aspects for 3D printing,
Proceedings in Manufacturing Systems, Volume 9,
Issue 4, ISSN 2067-9238, Editura Academiei
Române, Bucuresti, pp. 199-204.
Marin, D., Adîr, V. (2000) - Metoda sferelor
auxiliare cu centrul mobil la intersectia suprafetelor
cilindro-conice, A VII-a editie a Conferintei
Nationale cu participare internationala ,GRAFICA -
, ISSN 1223-5296, Craiova, pp 223-226.
Marin, D. (2007) -The intersection of cylindrcal
surfaces. Grapho-analytical studies. The 2nd
International Conference on Engineering Graphics
and Design (ICEGD), ISBN 978-973-667-252-1
Galati, Romania, pp 73-76.
Marin, D., Petrescu, L. (2014) -Grafica inginereasca
Editura BREN,Bucuresti, ISBN 978- 606-610-040-3
Petrescu, L. (2014) Geometrie descriptiva si grafica
inginereasca – Editura BREN, Bucuresti.
Postelnicu, V., Coatu, S. (1980) Mica enciclopedie
matematica - Editura Tehnica Bucuresti.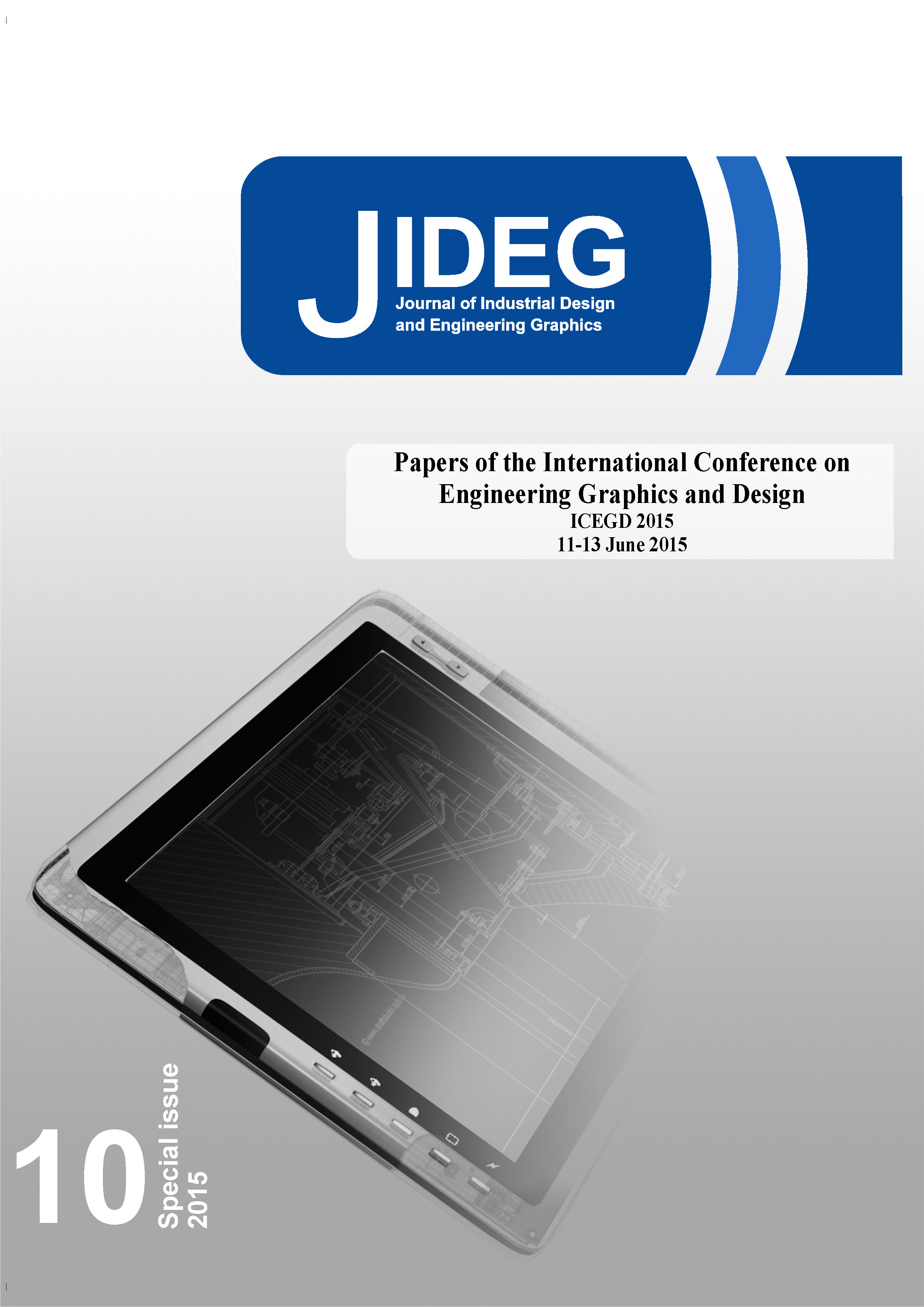 Downloads
Section
Theoretical Geometry and Graphics Section
License
Copyright (c) 2015 Journal of Industrial Design and Engineering Graphics
This work is licensed under a Creative Commons Attribution-NonCommercial 4.0 International License.