DESIGN CONSIDERATIONS UPON PRODUCT END-OF-LIFE OPTIONS
Keywords:
design, life cycle, end-of-life, reuse, remanufacture, recycle
Abstract
The paper presents some considerations about the necessity of evaluating the environmental impact of a product during its entire life. The present situation (economic, social and ecologic) imposes solutions to reduce this impact as a result of an analysis performed during all stages of the life cycle. This paper focuses on design solutions with consequences in the last stage, the end-of-life. Reusing products, with, or without remanufacturing and recycling the materials from products that cannot be reused represent some options analysed in this paper. The end-of-life options should be known even from the beginning of the design process and should be included as design objectives or, at least as constrictions. Considering them as human needs would naturally include them in the requirements list.
Downloads
Download data is not yet available.
References
Bârsan, L. (2015). Considerations upon Designing
Modular Constructions for Improving the Products
Assembling, Maintenance and Recycling Processes.
JIDEG, Vol.10, Issue 2, November 2015. ISSN 1843-
Bârsan, L., Bârsan, A., Bolos, C., Lates, T. (2009).
Ecodesign în contextul dezvoltarii durabile. Editura
Universitatii "Transilvania" din Brasov. ISBN 978-
-598-619-3
Bârsan, L., Bârsan, A. (2009). Some Aspects
Concerning the Design for Recycling and Waste
Minimisation. In: Proceedings of the 2-nd
International Conference EG'09, 24-26 sept 2009,
pp.274-277. Published by WSEAS Press. ISSN 1790-
Fraquelli, R. (2015). Deep Empathic Design. JIDEG,
Vol.10, Special Issue nr.4, June 2015. ISSN 1843-
Gertsakis, J., Lewis, H., Ryan, C. (1997). A Guide to
EcoReDesign™. Melbourne: Centre for Design, Royal
Melbourne Institute of Technology.
Morris, R., editor. (2007). Ecodesign for Sustainable
Development. Product Life Cycle Assessment. Editura
Universitatii Transilvania din Brasov, Romania. ISBN
-5981051
Bârsan, A., Bârsan, L. (2012). Fasteners and Joins
Selection to Facilitate Reuse Repair Upgrade and
Recycling. Annals of the Oradea University. Fascicle
of Management and Technological Engineering. ISSN
–0691
http://www.bmwlt.com/forums/tires/32607-
remanufactured-front-tire-lt-better-cheaper-thannew.
html. Accessed: 2016-10-30
http://www.opel.com/vehicles/technology/recycling.ht
ml. Accessed: 2016-10-30
http://www.apra-europe.org/main.php?target
=remanufacturing. Accessed: 2016-10-30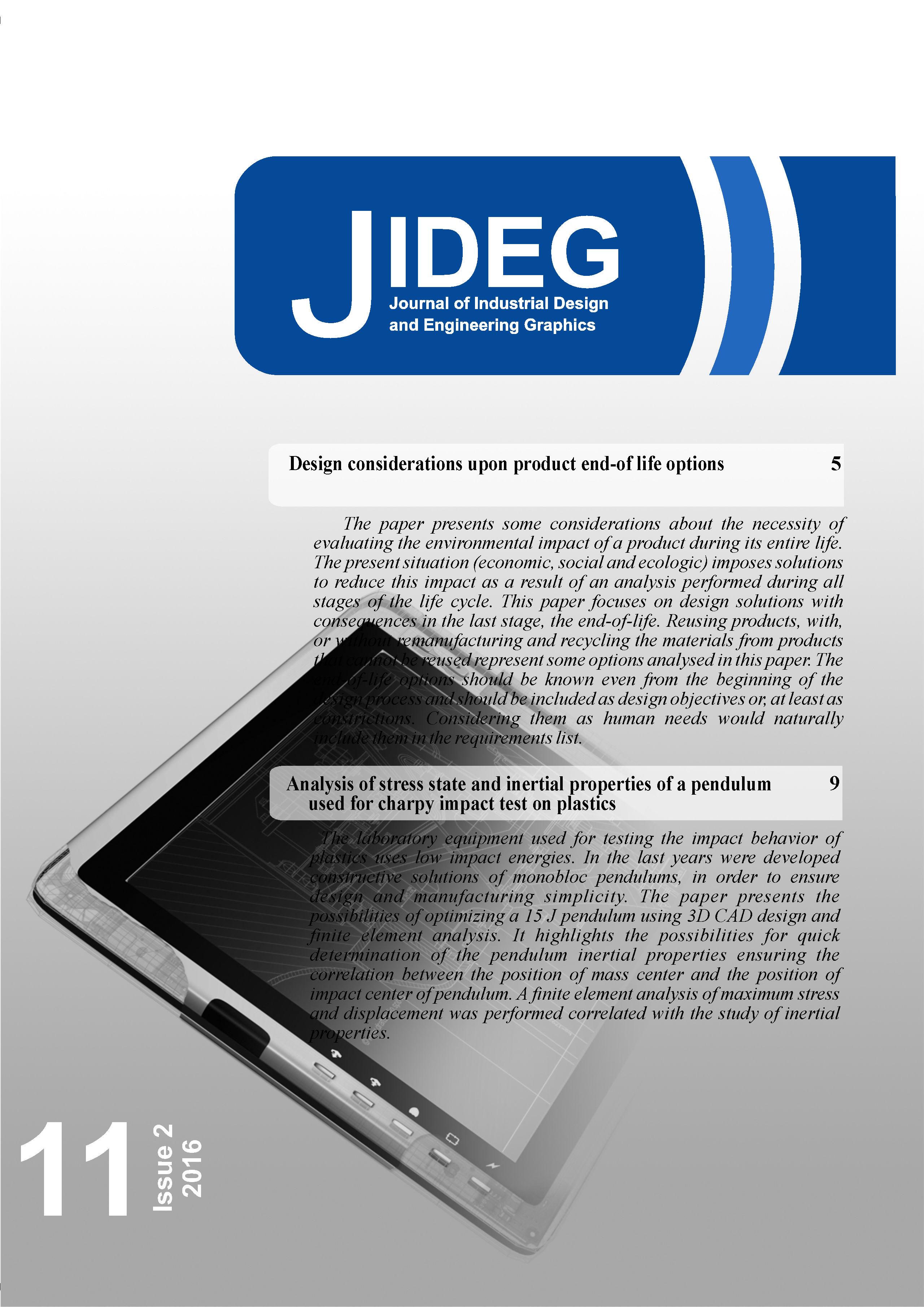 Downloads
License
Copyright (c) 2021 Journal of Industrial Design and Engineering Graphics
This work is licensed under a Creative Commons Attribution-NonCommercial 4.0 International License.