CONSIDERATIONS CONCERNING THE REPRESENTATION OF THE INTERSECTIONS OF POLYHEDRA IN VARIOUS SYSTEMS OF REPRESENTATION
Keywords:
intersections of polyhedra, axonometry, projection with elevations, orthogonal projection on two planes of projection
Abstract
This paper presents the intersection between two polyhedra in various systems of representation: the orthogonal projection on two planes of projection, the axonometric projection and the projection with elevations. A comparative analysis of the advantages and disadvantages produced by the representation in the three mentioned systems of representation is also performed. Then, suggestions as to the selection of one or another system of representation are also made, in view of finding a clearer spatial visual perception of the unit.
Downloads
Download data is not yet available.
References
Barbinta, D., Dardai, R., Nerisanu, R. (2010). Developing space perception by means of 3D representations. 25th National and 2nd International Scientific Conference moNGeometrija 2010, Publisher Faculty of Architecture in Belgrade, Serbian Society for Geometry and Graphics, ISBN: 978-86-7924-040-8, Belgrade, June 2010, Serbia.
Barbinta, D., Dragan, D., Nerisanu, R. (2009). Using alternative pedagogical methods in teaching graphics subjects. The 3rd International Conference on engeenering graphics and design, Acta Tehnica
Napocensis, pp. 597-600, ISSN 1221-5872, Cluj 2009, Romania.
Barbinta, D., (2003). Reprezentarea axonometrica a corpurilor. The 8th National Symposium with international participation Descriptive Geometry, Technical Drawing and Design in 2003, Transilvania
University of Brasov, pp. 29-30, ISBN 973-635-195-5; 973-635-196-3, Brasov, Romania.
Hincu, G., STANILA, A., (2007). On teaching Descriptive geometry at the Faculty of Civil Engineering of Iasi. Proceedings of the 2nd International Conference of Engineering Graphics and Design, Dunarea de Jos University Galati, pp. 481-484, ISBN 978-973-667-252-1, Galati June 2007, Publisher Cermi, Iasi, Romania.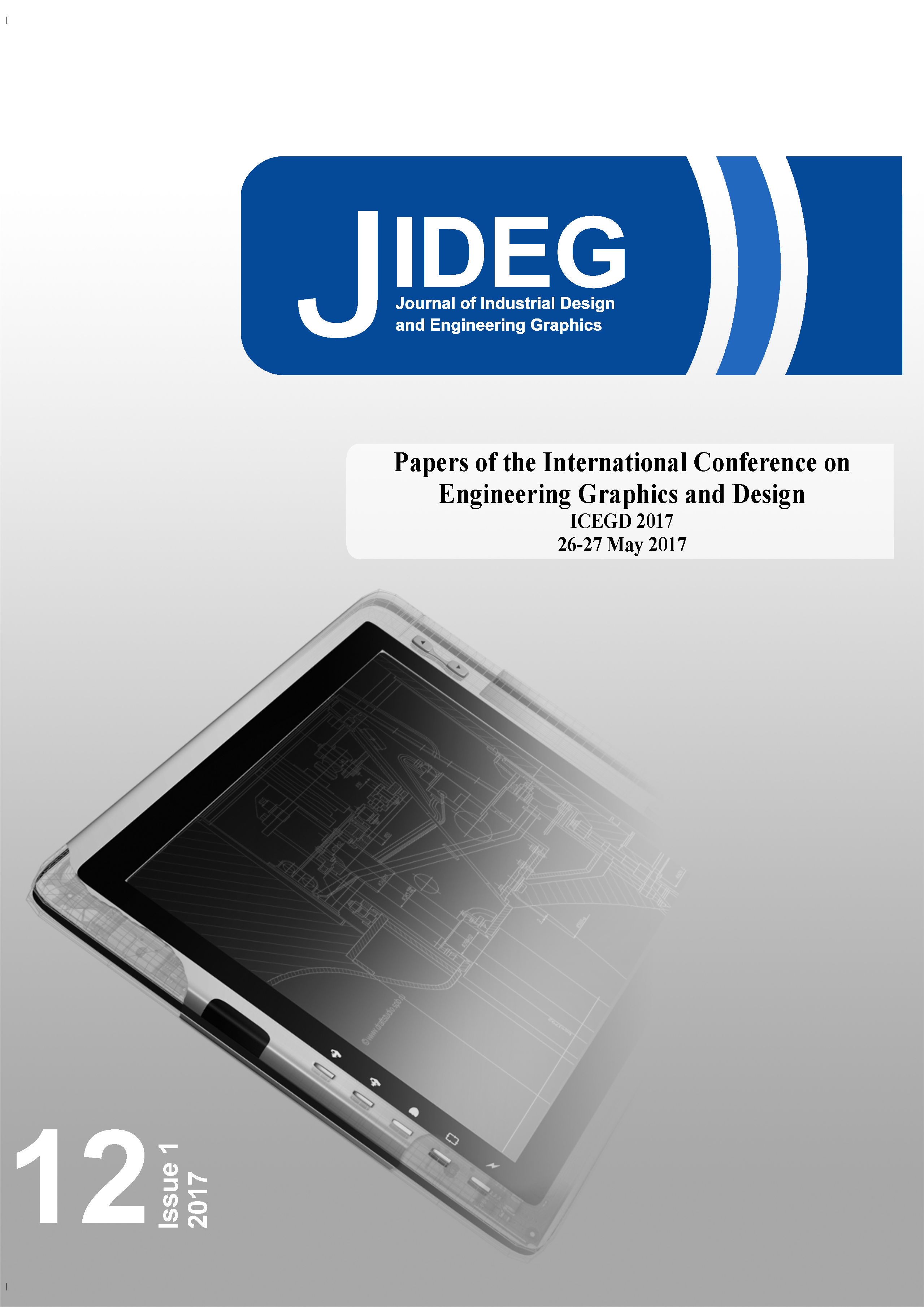 Downloads
Section
Theoretical Geometry and Graphics Section
License
Copyright (c) 2020 Journal of Industrial Design and Engineering Graphics
This work is licensed under a Creative Commons Attribution-NonCommercial 4.0 International License.