NEW METHOD FOR ACTIVE SURFACES QUALITY INSPECTION FOR HIGH DIMENSIONS BEARINGS
Keywords:
method, quality, surface, microscope, algorithm, virtual instrument
Abstract
The paper presents a stage of an ample research on high quality control for different type of large dimension bearings, with application in wind turbines for electrical energy production. There is presented a new and efficient method for bearing's active surfaces quality control, in terms of roughness, to ensure a good and safety functioning and a long life of these. The research involved the use of a powerful digital microscope for surface analysis followed by an assisted by PC algorithm for results obtaining in terms of roughness values. It has been observed that the proposed analyzing method could in the future to be successfully applied for a very large range of bearings, different dimensions and applications.
Downloads
Download data is not yet available.
References
FAG INA (2010), Bearings Solutions for Large Size
Machinery, http://www.schaeffler.com/, accessed in
-03-25.
NSK Motion and Control (2011), Large Size Roller
Bearings, http://www.feyc.eu/download/catalogos/
rodamientos/nsk/NSK-Large-Size-Rolling-Bearing,
accesed in 2016-04-15.
Cristea, L., Baritz, M.; Rosca, I. (2006), Modular
reorganisation of the automatic system for the microbearings
dimensional inspection, International
Workshop "Advanced Researches in Computational
Mechanics and Virtual Engineering", COMAT, 18–20
October, Brasov, Romania, ISBN 973-635-823-2.
Cristea, L. (2004), Automat Device for Bearings aut of
Roudness Measurement, The 7th International
Conference on Mechatronics and Precision
Engineering COMEFIM 7, Bucharest, 27th – 29th May
, ISBN 973–86886–1–2.
Cristea, L (2006), Considerations regarding the
improvement of thrust bearings automatic dimensional
inspection, Acta Technica, Cluj-Napoca, Romania,
, ISSN: 1221-5872.
Baritz, M. (2010); Structural analysis by image
processing of the multilayer ophthalmic polycarbonate
lenses behavior during mechanical factors aggression,
Metalurgia International Journal, vol.XV nr.7, pp.121.
Braun, B., Druga, C.; Turcu, C., Olteanu, C.(2007),
The surface quality inspection, aided by computer -
th International Research / Expert Conference
"Trends in the Development of Machinery and
Associated Technology", TMT, Hammamet, Tunisia,
– 9 September, ISBN 978-9958-617-34-8, pp 703 –
DIN_5402-1 (1993), Roller bearing parts -
dimensions and form tolerances and surface
roughness.
ISO 4287 (1997), Terms, definition and surface
texture parameters.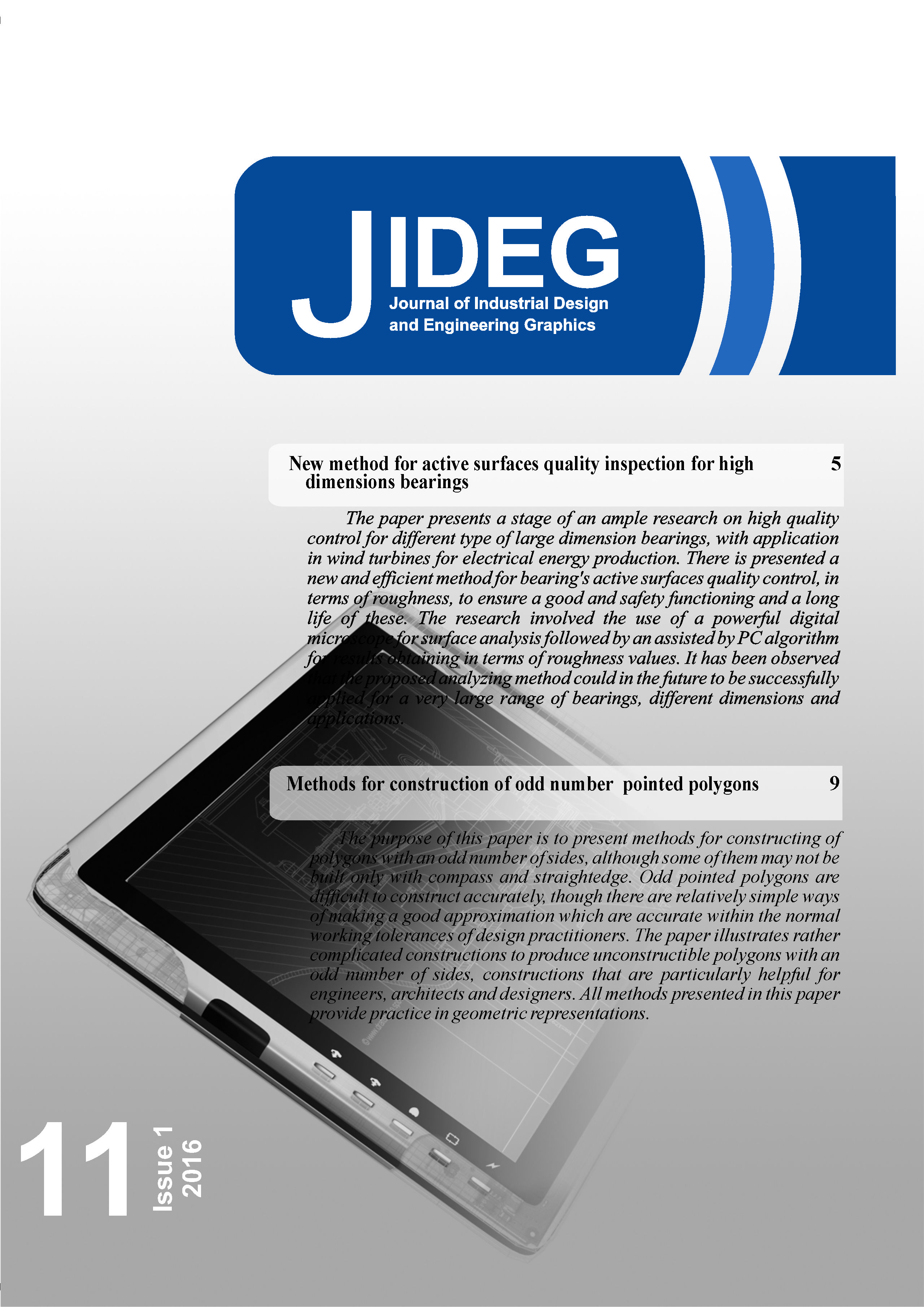 Downloads
License
Copyright (c) 2021 Journal of Industrial Design and Engineering Graphics
This work is licensed under a Creative Commons Attribution-NonCommercial 4.0 International License.