FIXTURING DEVICE FOR DRILLING A STRAIGHT SHAFT
Keywords:
fixturing device, straight shaft, Autodesk Inventor, AutoCAD, drilling
Abstract
The paper presents a fixturing device used for machining by drilling a straight shaft. The shaft was manufactured on EMCO CONCEPT TURN 55 CNC. The blank used was a bar with circular crosssection. The orientation and fixing scheme of the part and the orientation elements for fixturing device are presented as they were drawn in Autodesk Inventor and AutoCAD software.
Downloads
Download data is not yet available.
References
Popescu, I., Minciu, C., Tanase, I., et al (2004). Scule
aschietoare - dispozitive de prindere a sculelor
aschietoare - dispozitive de prindere
a semifabricatelor - mijloace de masurare, Ed.
Matrix Rom, Bucure?ti, ISBN 973-685-741-7.
Voicu, T., et al (1985). Elemente de proiectare a
dispozitivelor pentru masini-unelte, Ed. Tehnica,
Bucuresti.
http://www.creeaza.com/tehnologie/tehnica-meca
nica/OSII-SI-ARBORI-Definitii-Rol-f631.php
Accessed: 2017-03-10.
https://www.google.ro/url?sa=t&rct=j&q=&esrc=s&
source=web&cd=3&sqi=2&ved=0ahUKEwis2rj4lur
SAhVBaxQKHWjvA34QFgglMAI&url=https%3A%2
F%2Fxa.yimg.com%2Fkq%2Fgroups%2F79050676
%2F2047476889%2Fname%2FCurs%2BID%2BPac
hete%2BSoftware.doc&usg=AFQjCNEUGAD5_NyO
BlVvs9KPrUIE5ruEPA&sig2=3TBHBb2IgvdUMGu7
LsN9A&bvm=bv.150120842,d.d24, Accessed: 2017-
-15.
Alexandru, V., Bejenaru, S., Baroiu, N., (2002).
Grafica asistata de calculator, Ed. Fundatiei
Universitare, Galati, ISBN 973-8352-33-9.
Stancescu, C., (2009). Modelarea parametrica si
adaptiva cu Inventor – Vol. I si II, Editura Fast,
Bucuresti, ISBN 978-973-86798-4-9.
http://usa.autodesk.com/autodesk-inventor/,
Accessed: 2017-03-18.
http://www.scritub.com/tehnica-mecanica/
ORIENTAREA-SI-FIXAREA-IN-DISPO25746.php,
Accessed: 2017-03-25.
http://webbut.unitbv.ro/Carti%20online/OM/Jula_Lat
es_2004/Cap4.pdf, Accessed: 2017-03-28.
Rosculet, S.V., Gojine?chi N., Andronic C., et al
(1982). Proiectarea Dispozitivelor, Ed. Didactica si
Pedagogica, Bucuresti.
Stanescu, I., Tache, V., (1964). Proiectarea si
constructia dispozitivelor, Ed. Didactica ?i Pedagogica,
Bucuresti.
Costin, G.A., Susac, F., Baroiu, N. (2016). The
graphic modeling of a drilling device for the EMCO
MILL 55 CNC milling and drilling machine, Journal of
Industrial Design and Engineering Graphics - JIDEG,
Vol. 11, Issue 2, ISSN 1843-3766, pp. 35-40.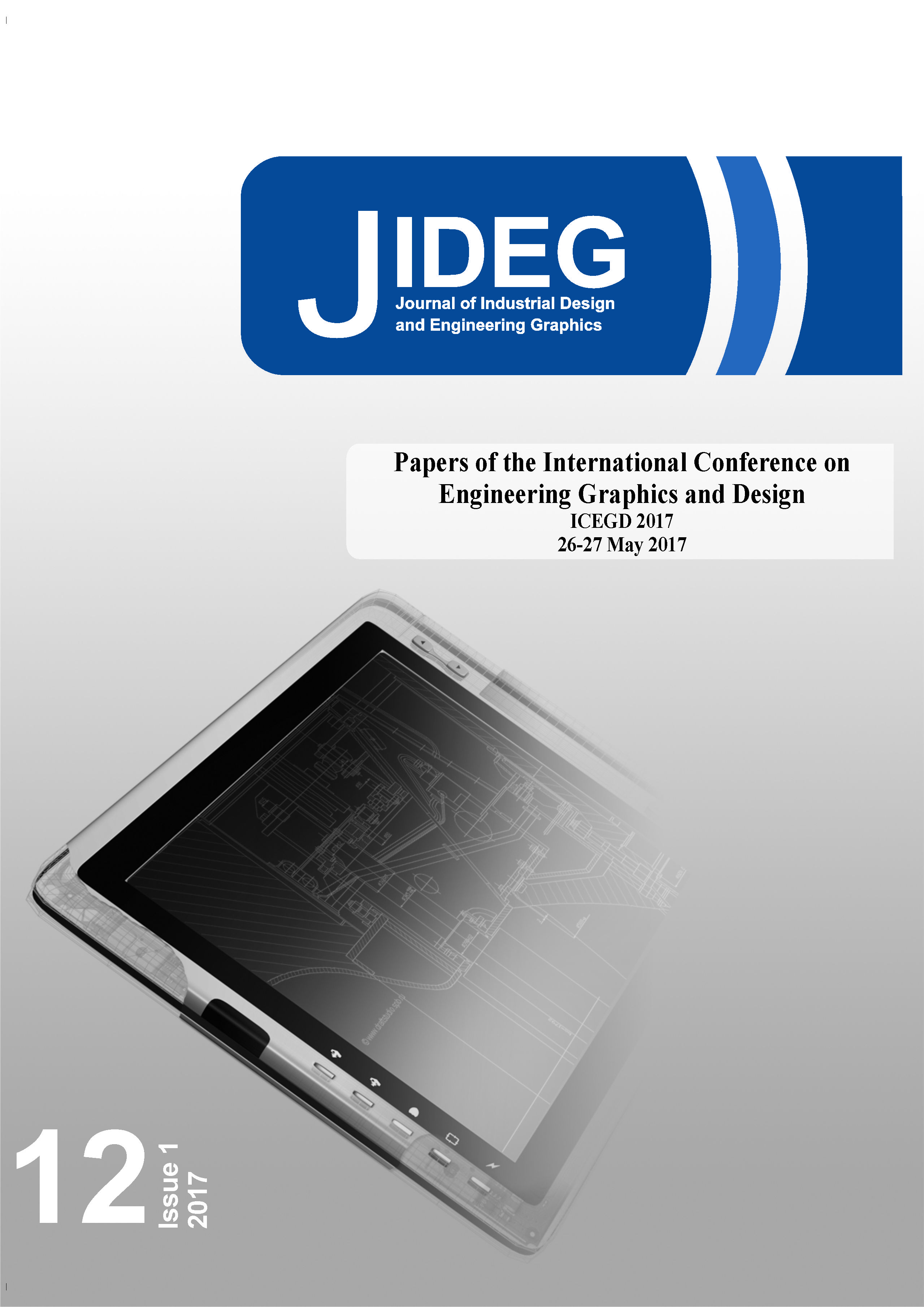 Downloads
Section
Industrial Design and Graphic Design
License
Copyright (c) 2021 Journal of Industrial Design and Engineering Graphics
This work is licensed under a Creative Commons Attribution-NonCommercial 4.0 International License.