INNOVATIVE TEACHING AND LEARNING AT ENGINEERING IN SALERNO (ITALY): THE MASTER DEGREE MODULE IN VIRTUAL DESIGN LAB
Keywords:
virtual design, learning skills, teaching methods, engineering modules, ergonomics
Abstract
How can academics and teachers improve the learning capabilities of Master Degree (MD) students of Engineering courses through the use of new methodologies, new instruments and new teaching approaches? This paper wants to give a possible answer to this question by sharing the experience of Virtual Design Lab module at the faculty of Engineering at University of Salerno (Italy). Teaching and learning methodologies are explained and the experience of students is evaluated through a standard questionnaire. Results seem to be promising for the organization of new modules.
Downloads
Download data is not yet available.
References
Dichiarazione di Bologna, Bologna Process, 1999.
Shared 'Dublin' descriptors for Short Cycle, First Cycle, Second Cycle and Third Cycle Awards. A report from a Joint Quality Initiative informal group (contributors to the document are provided in the Annex). 18 October 2004
Bloom, B.S., Engelhart, M.D., Furst, E.J., Hill, W.H., Krathwohl, D.R. (1956). Taxonomy of Educational Objectives, Handbook I: The Cognitive Domain. New York: David McKay Co Inc.
Anderson, L.W., Krathwohl, D.R., Airasian, P.W., Cruikshank, K.A., Mayer, R.E., Pintrich, P.R., Raths, J., Wittrock, M.C. (2001). A Taxonomy for Learning, Teaching, and Assessing: A revision of Bloom's Taxonomy of Educational Objectives. New York: Pearson, Allyn & Bacon.
Forehand, M. (2005). Bloom's taxonomy: Original and revised. In M. Orey (Ed.), Emerging perspectives on learning, teaching, and technology.
Naddeo, A., N. Cappetti, and O. Ippolito (2014). Dashboard Reachability and Usability Tests: A Cheap and Effective Method for Drivers' Comfort Rating. SAE Technical Papers 1. doi:10.4271/2014-01-0455.
Bouwens, J. M. A., L. Fasulo, S. Hiemstra-van Mastrigt, U. W. Schultheis, A. Naddeo, and P. Vink. (2018). Effect of in-Seat Exercising on Comfort Perception of Airplane Passengers. Applied Ergonomics 3: 7-12. doi:10.1016/j.apergo.2018.05.011.
Naddeo, A., R. Califano, M. Vallone, A. Cicalese, C. Coccaro, F. Marcone, and E. Shullazi. (2019). The Effect of Spine Discomfort on the overall Postural (Dis)Comfort. Applied Ergonomics 74: 194-205. doi:10.1016/j.apergo.2018.08.025.
Naddeo, A., O. Cannavacciuolo, G. Cialeo, P. De Stefano, I. Goglia, and R. Russo. (2018). The Effect of Reachability on Global Comfort Perception: The Case of Front-Seat Car Passengers. SAE Technical Papers 2018-April. doi:10.4271/2018-01-1320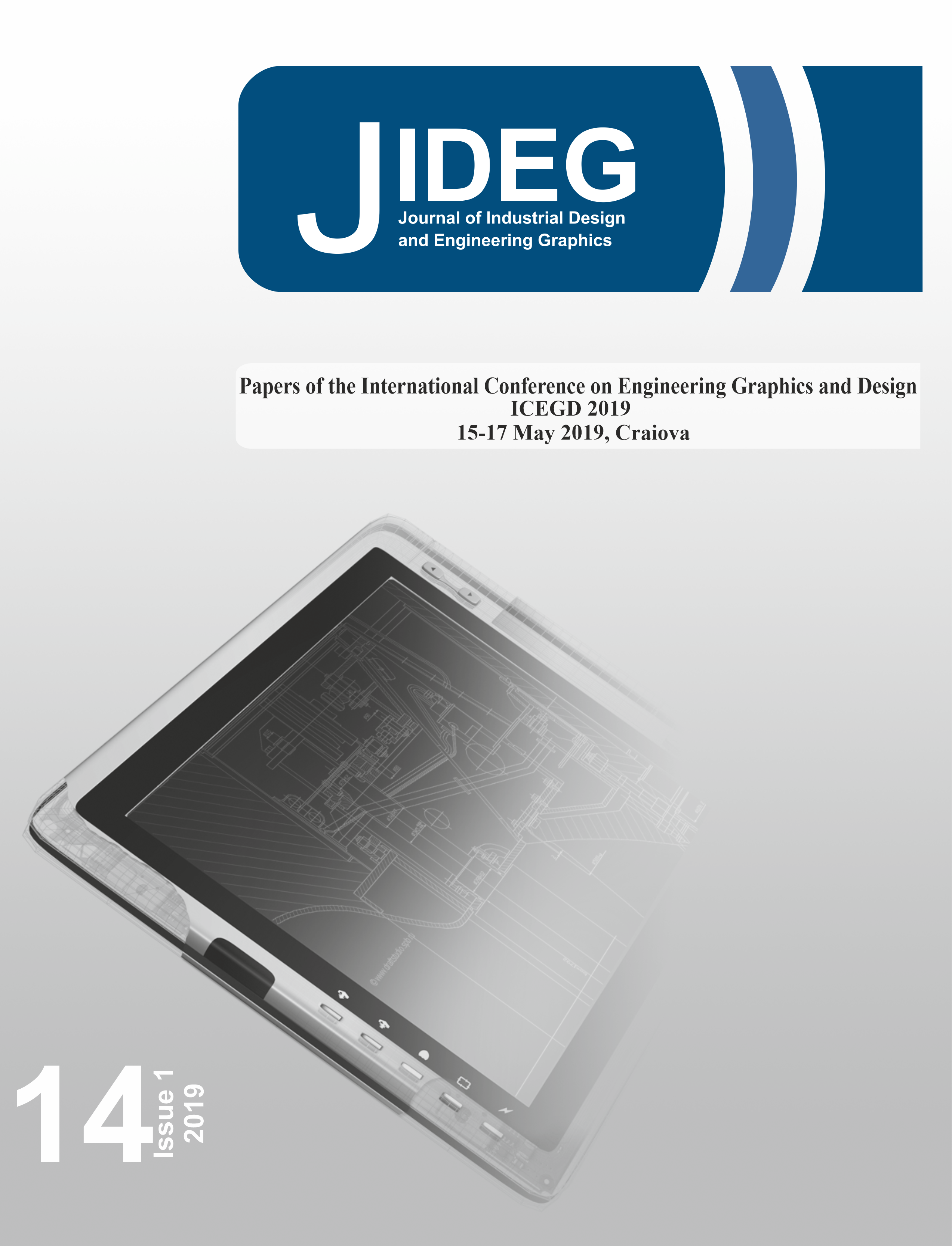 Downloads
Section
Teaching Methodology
License
Copyright (c) 2020 Journal of Industrial Design and Engineering Graphics
This work is licensed under a Creative Commons Attribution-NonCommercial 4.0 International License.