THE INFLUENCE OF THE GEOMETRIC SHAPE ABOVE THE VULNERABILITY OF BUILDINGS - KULA TYPE FROM OLTENIA AND MUNTENIA REGIONS
Keywords:
geometric shape, constructive type, massive masonry, vulnerability
Abstract
The main goal of this paper is to highlight the vulnerability during the life time of kula buildings from Oltenia and Muntenia Regions from Romania. This research highlights the characteristic features of massive kula type buildings by masonry built before 1900. A general presentation of these buildings is being performed, from the point of view of unique and particular features, in two distinct cases. The analysis carried out highlights common and different features for each construction. The behavior and the previsions about the lifetime duration of the massive masonry are influenced by parameters such as the constructive system, the geometric shape, the buildings materials properties. These are the parameters analyzed in this paper in order to be used as input in modeling the structures subjected to occasional loads (strong winds, massive snow accumulations, earthquakes, extreme temperatures, humidity, erosion and biological degradation). In such situations the destruction of the masonry elements and the collapse occur due to the accumulated fatigue in the component elements. All the conclusions can be used for performing a fatigue analysis of these buildings for determining the expected life duration.
Downloads
Download data is not yet available.
References
Zamora L. Bonciocat S., (2007), Cule case boieresti fortificate din Romania, Publischer Igloo Patrimoniu, Bucuresti, Romania, ISBN 978-973-87938-5-9.
XXX (2014) Cule: case fortificate intre fala si ruina, Publischer Igloo Patrimoniu, Bucuresti, Romania, ISBN 978-606-8026-39-8.
Atanasescu I., Grama V., (1974), Culele din Oltenia, Publisher Scrisul Romanesc, Craiova, Romania.
Atanasescu I., Popescu P., (2013) Culele din Olteni si evolutia lor pana astazi, Publisher Alma DCMI, Colectia Patrimoniu Cultural National, Craiova, Romania, ISBN 978-973-0-15178-7.
Barbu A.M., (2018), Comportarea de lunga durata a peretilor din zidarie masiva, Teza de doctorat, Cluj Napoca, Romania.
Sass L., (2002), Desen Geometric, Publischer Tehnica-Info, Chisinau, Republica Moldova.
https://www.kule.ro/en/about-kulas, Kulas Past and perspective, Institutul National de Patrimoniu. Accessed 2019-02-08.
Mogosanu A.M., Kopenetz L.Gh., (2018) The Practice of Structural Analysis at the Kula Constructions, C65 International Conference-" Tradition and Innovation - 65 Years of Constructions in Transilvania", Universitatea Tehnica Cluj Napoca.
Sass L., Duta A., Mogosanu A.M., (2014), Appications of Geometrical Drawing in the Popular Art from Oltenia-Romania, International Scientific Conference moNGeometrija June 20th - 22nd, Vlasina, Serbia, 2014, ISBN 978-86-88601-14-6.
Vasiluta P., Cofaru N., Popa D., (2012) Ecological Landfill folded Geomembranes behaviour during virtual Experiments, Academic Journal of Manufacturing Engineering, vo 10. No.4, pp.130-135.
Popa A. D., Mogosanu A. M., Popa D. L., Duta A., Teodorescu A, (2017), Virtual and Rapid Prototyping Methods Applied in Civil Engineering. Snow, Wind and Earthquake Simulations on a Five Storey Building, FME Transactions, no.2 Issue 45, ISSN1451-2092, http://www.mas.bg.ac.rs/istrazivanje /fme/start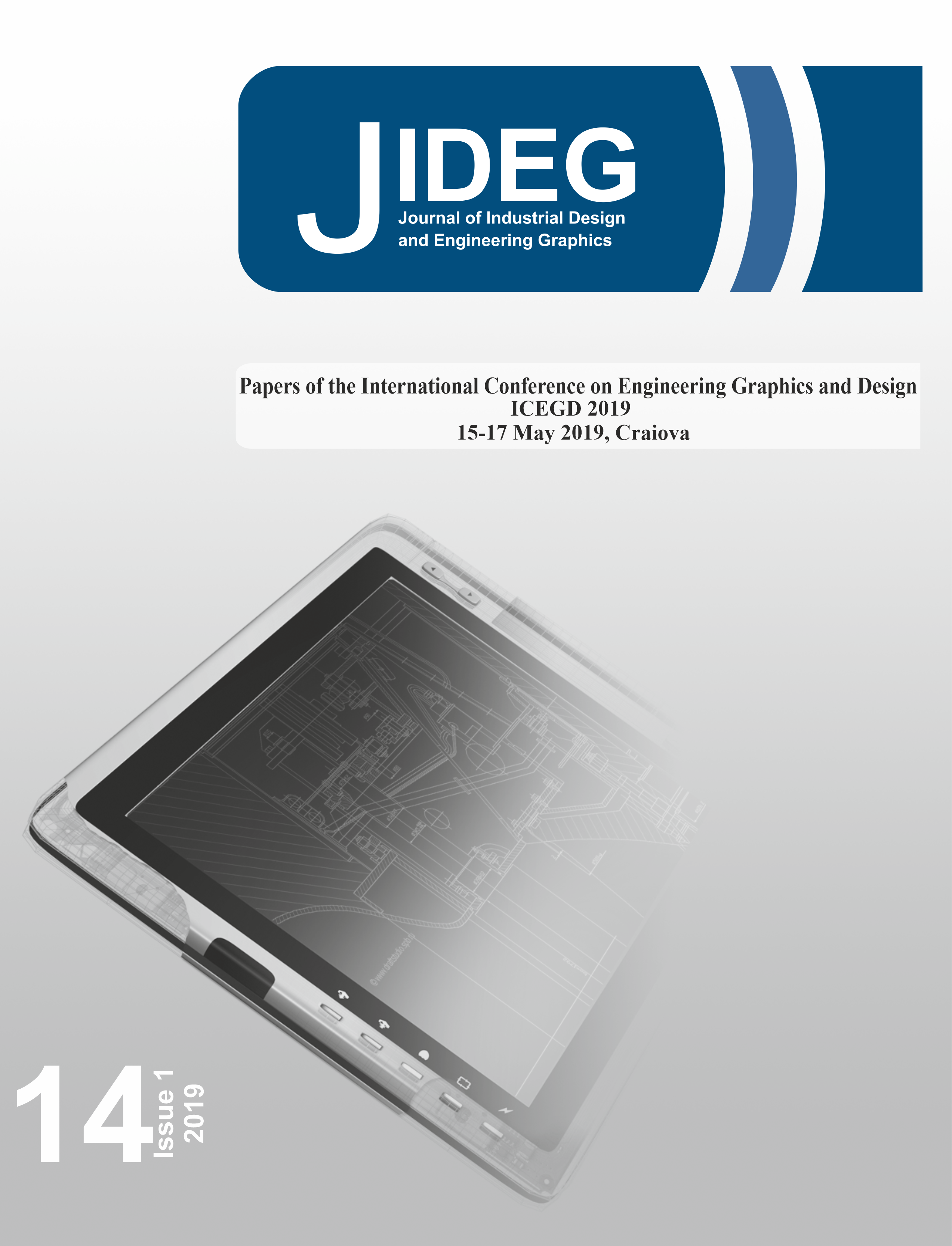 Downloads
Section
Industrial Design and Graphic Design
License
Copyright (c) 2020 Journal of Industrial Design and Engineering Graphics
This work is licensed under a Creative Commons Attribution-NonCommercial 4.0 International License.