THE IMPACT OF SEAT REDESIGN IN CHANGING THE AIRCRAFT BOARDING STRATEGY
Keywords:
seat, aircraft, cabin, boarding, strategy, redesign
Abstract
The aerospace industry and its accelerated development leads to new strategies that the airline companies must take into account to deal with the large number of passengers that pass through the airport daily. This paper addresses a current concern regarding aircraft passenger boarding time. Due to economical, social, operational or time reasons, both airports and airlines have interests in decreasing passenger boarding time. The boarding efficiency has been studied over the years and several reports have appeared in the literature. The aim of this paper is to propose a new approach of boarding which is closely related to a new redesigned concept of low-cost aircraft seats.
Downloads
Download data is not yet available.
References
Horstmeier, T.H.W., de Haan, F. (2001). Influence of ground handling on turn round time of new large aircraft. Aircraft Engineering and Aerospace Technology, Vol. 3, No. 71, pp. 266-270.
van Landeghem, H., Beuselinck, A. (2002). Reducing passenger boarding time in airplanes; A simulation based approach. European Journal of Operational Research, 142(2), pp. 294-308.
Nyquist, D.C., McFadden, K.L. (2008). A study of the airline boarding problem, Journal of Air Transport Management, 14 (4), pp. 197-204.
Tang, T.Q., Huang, H.J., Shang, H.Y. (2012). A new pedestrian-following model for aircraft boarding and numerical tests, Nonlinear Dynam., No. 67, pp. 437-443.
Qiang, S.J., Jia, B., Xie, D.F. (2014). Reducing airplane boarding time by accounting forpassengers' individual properties: a simulation based on cellular automaton. J. Air Transport. Manag. No. 40, pp. 42–47.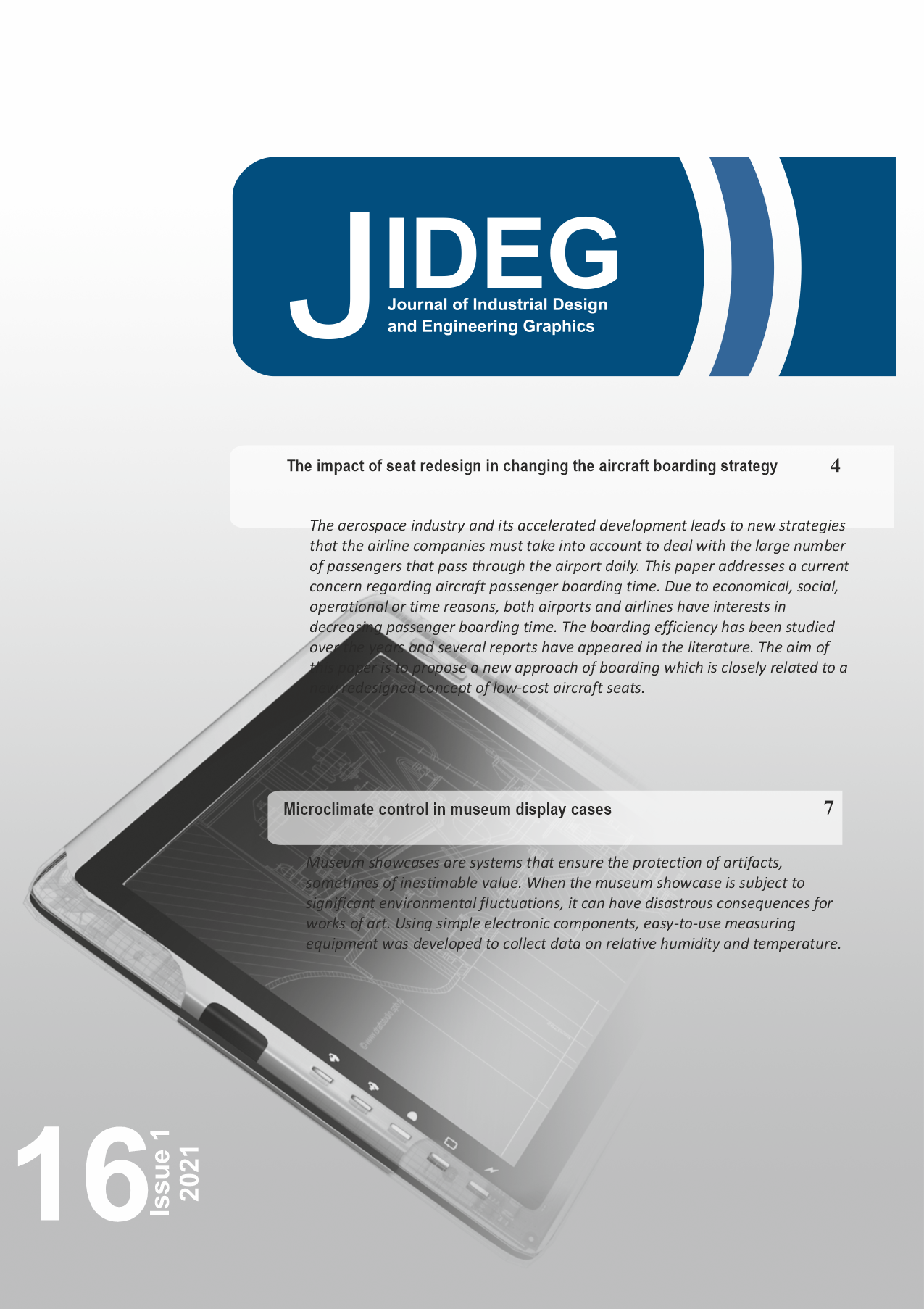 Downloads
License
Copyright (c) 2022 Journal of Industrial Design and Engineering Graphics
This work is licensed under a Creative Commons Attribution-NonCommercial 4.0 International License.