SPECTRAL ANALYSIS OF THE VARIOUS COMPONENTS OF AN AUTO CATALYST
Keywords:
Sulphur-tolerant catalysts, spectrophotometre, catalytic materials, atomic ratio
Abstract
This paper presents a study reaction comparison who was carried out in a glass continuousflow reactor at atmospheric pressure. The inlet gas contained 8.1 . % in (Messer MG Chimco Gas). The WGS reaction was carried out in the temperature range 270 - 400?, space velocities (GHSV) from 2000 to 8000 h , / ratio = 3 (vapour/gas = 0.27) and in the presence of 2 . % . The converted mixture was controlled continuously by an Infralyt 200 spectral gas-analyser recording online and contents in . % (±1.5) at the reactor outlet. The research presented in this paper has obvious practical potential. The whole experiment was directed to the activity of low Ni- content catalyst and what is the effect of alkali addition when the reaction is performed at atmospheric pressure and higher H2S content in the reaction mixture. Improvement of engine characteristics both by reducing harmful quantities emitted and by increasing power were confirmed by analyzes made in a vehicle inspection station.
Downloads
Download data is not yet available.
References
Atkins, P. W. (1996). Tratat de chimie fizica,
Editura Tehnica, Bucuresti.
Iliuta, I. (1995). Cataliza si catalizatori,
Universitatea Politehnica din Bucuresti, Bucuresti.
R a d u , I . V . (2012), Application in building a
new type catalyst with fractals V. Eco catalyst,
Volume 7, Issue 1, JIDEG, ISSN 1843 – 3766.
R a d u , I .V. (2011). Methods to reduce
greenhouse gas and prevention in cars, Universitatea
Tehnica "Gheorghe Asachi" din Iasi, Tomul LVII
(LXI), Fasc. 2, ISSN 1011-2855.
Safta, V. (2010). Curs Sisteme de depoluare,
Universitatea Politehnica Bucuresti.
Shun, L. (2001), Handbook of environmental
engineering calculations, McGraw- Hill
Professional.
Simion, I. (2005). AutoCAD 2005 for engineers,
TEORA USA Publishing House, ISBN 1-59496-
-X 2005, New York.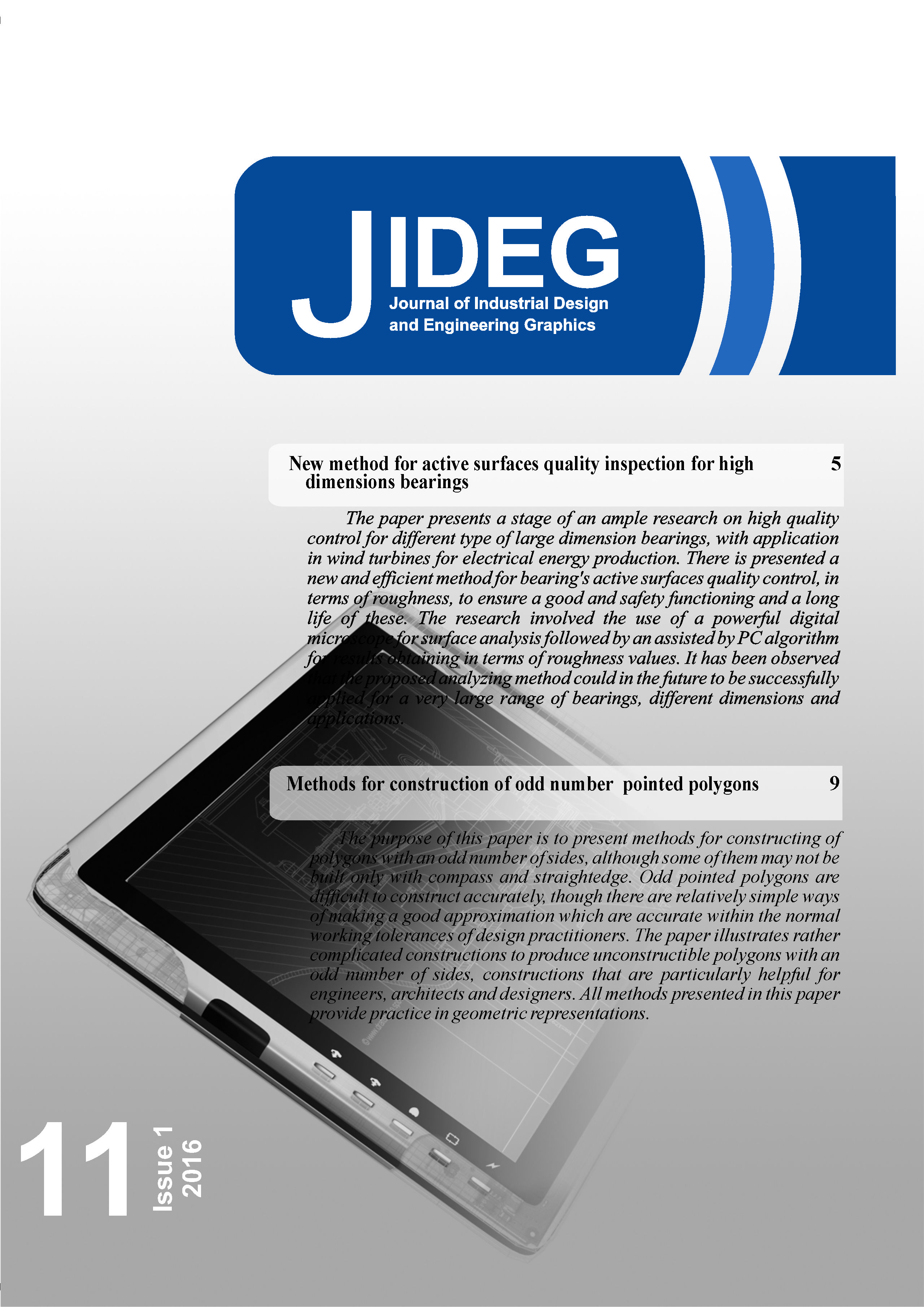 Downloads
License
Copyright (c) 2021 Journal of Industrial Design and Engineering Graphics
This work is licensed under a Creative Commons Attribution-NonCommercial 4.0 International License.