CFD SIMULATION AND FEA ANALYSIS OF A BALLISTIC MISSILE
Keywords:
ballistic missile, CFD, finite element analysis, pressure, stress
Abstract
The ballistic missile model analysed in this paper presents a stringer type fuselage having 10 control surfaces, 8 directional surfaces to execute turns and 2 to execute manoeuvers for changing the angle of attack, but also 4 direction stabilisers. In this paper a CFD simulation was carried out on ballistic missile with a new structure for determining the flight performance and the aerodynamic configuration. It was also performed a finite element analysis of the ballistic missile and the results obtained allowed to precisely determine the areas where the stress is greatest and where is necessary to provide several measures to increase the structure's rigidity, to protect it from temperature and pressure.
Downloads
Download data is not yet available.
References
Ni?a, M. M., Moraru, F. V. Patraulea R. N. (1985).
Aircraft and Missile – Design Concept (Avioane ?i
rachete - Concepte de proiectare), Editura Militara,
Bucure?ti
Cernat, M. (2001). Structuri de rachete, Editura
Academiei Tehnice Militare, ISBN 973-9456-32-4,
Bucure?ti
http://www.zeusnumerix.com/case_studies, accessed
10.2016
Zaharia, S. M. (2015). Simulation and aerodynamic
analysis of the flow around the sailplane using CFD
techniques. Scientific Bulletin of the Petru Maior
University of Targu Mures, Vol. 12, No. 2, pp. 26-30,
ISSN 1841-9267
Prisacariu, V. (2016). CFD Analysis of UAV Flying
Wing. INCAS BULLETIN, Vol. 8, No. 3, 65–72, ISSN
–8201
Velkova, C., Todorov, M. (2015). Study of the
influence of a gap between the wing and slotted flap on
the aerodynamic characteristics of ultra-light aircraft
wing airfoil. Review of the Air Force Academy, Vol.
XIII, No. 3, pp. 39-44, ISSN 1842-9238
Barbut, D., Negrus, E. M. (2011). CFD analysis of
road vehicles- case study. INCAS BULLETIN, Vol. 3,
No. 3, pp. 15-22, ISSN 2066–8201
Buljac, A., Kozmar, H., Džijan, I. (2016).
Aerodynamic performance of the underbody and wings
of an open-wheel race car. Transactions of Famena,
Vol. 40, No. 2, pp. 19-34, ISSN 1333-1124
Bajc, T., Todorovic, M. N., Svorcan, J. (2014). CFD
analyses for passive house with Trombe wall and
impact to energy demand. Energy and Buildings, Vol.
, pp. 39-44, ISSN 0378-7788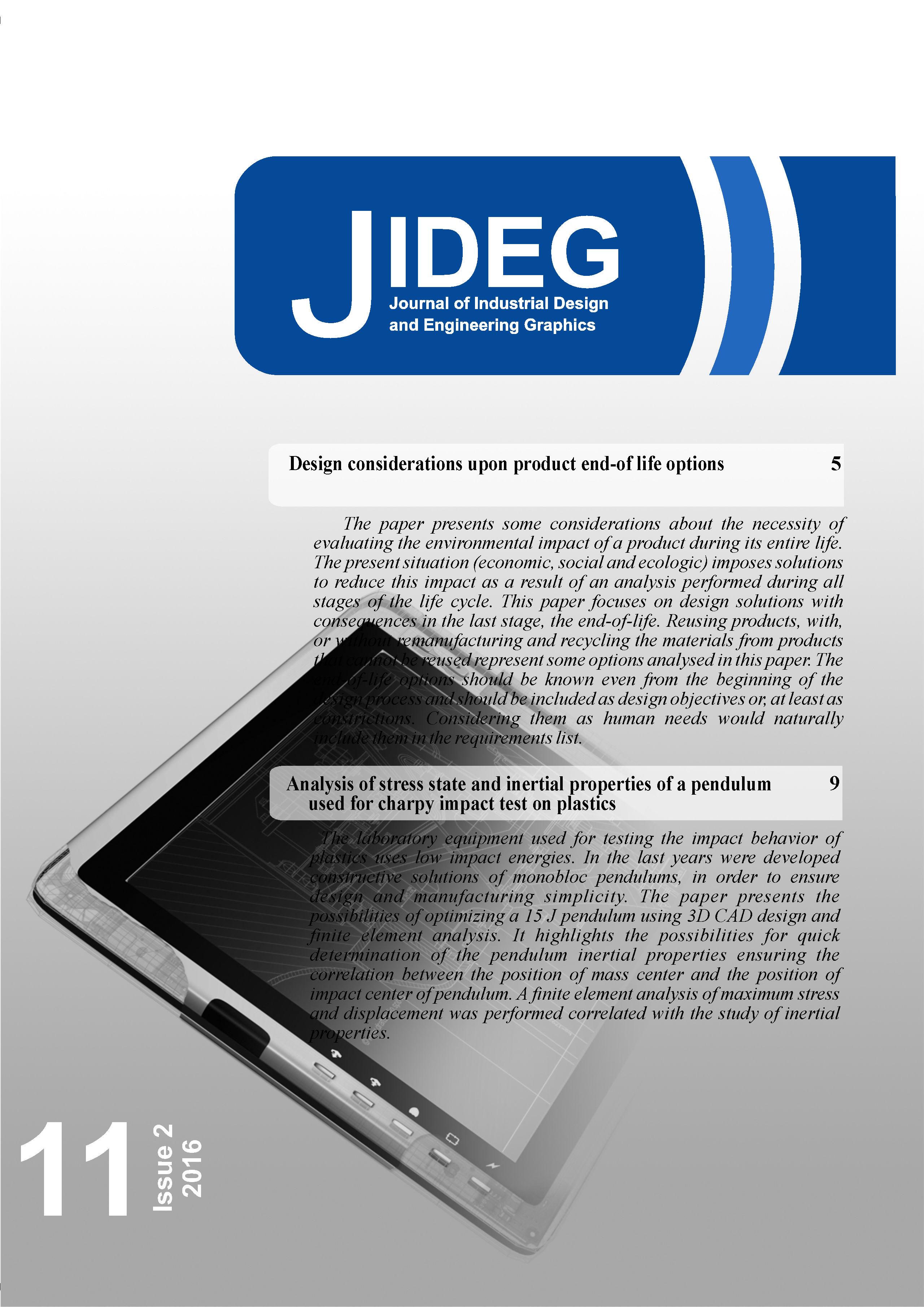 Downloads
License
Copyright (c) 2021 Journal of Industrial Design and Engineering Graphics
This work is licensed under a Creative Commons Attribution-NonCommercial 4.0 International License.