ANALYSIS OF STRESS STATE AND INERTIAL PROPERTIES OF A PENDULUM USED FOR CHARPY IMPACT TEST ON PLASTICS
Keywords:
pendulum, Charpy impact test, plastics, inertial properties, stress, displacements
Abstract
The laboratory equipment used for testing the impact behavior of plastics uses low impact energies. In the last years were developed constructive solutions of monobloc pendulums, in order to ensure design and manufacturing simplicity. The paper presents the possibilities of optimizing a 15 J pendulum using 3D CAD design and finite element analysis. It highlights the possibilities for quick determination of the pendulum inertial properties ensuring the correlation between the position of mass center and the position of impact center of pendulum. A finite element analysis of maximum stress and displacement was performed correlated with the study of inertial properties.
Downloads
Download data is not yet available.
References
Cacareaza, G. (2016). Design of a Charpy Impact
Pendulum for plastics, Diploma project, project
coordinator: Cojocaru V., "Eftimie Murgu" University
of Resita
Cojocaru, V. (2013). Influence of the rib radius on the
maximum stresses and deformations of a corner
bracket", Analele Universitatii Eftimie Murgu din
Resita, Fascicula I, vol. XX, no.1, pp. 71-76
Hanel, B. (2003). FKM Guideline – Analytical
strength assessment of components in mechanical
engineering, VDMA Verlag GmbH, Frankfurt
Muhs, D., Wittel, H., Jannasch, D. (2008).
Roloff/Matek Machine Elements (Organe de masini),
Vol. I+II, Editura Matrix Rom, ISBN 978-973-755-
-3, Bucuresti
Nedelcu, D. (2011). Digital Prototyping and
Numerical Simulation with SolidWorks, Eurostampa,
ISBN 978-606-569-276-3, Timisoara
Shih, R. (2012). Introduction to finite element analysis
using SolidWorks Simulation 2012, Ingram, ISBN
-1-58503-704-9
*** Zwick/Roell, HIT Pendulum Impact Testers from
to 50 J, FP 5732.0116, www.zwick.com
*** Instron, CEAST 9000 Series, Pendulum Impact
Systems, www.instron.com; Accessed: 2016-10-12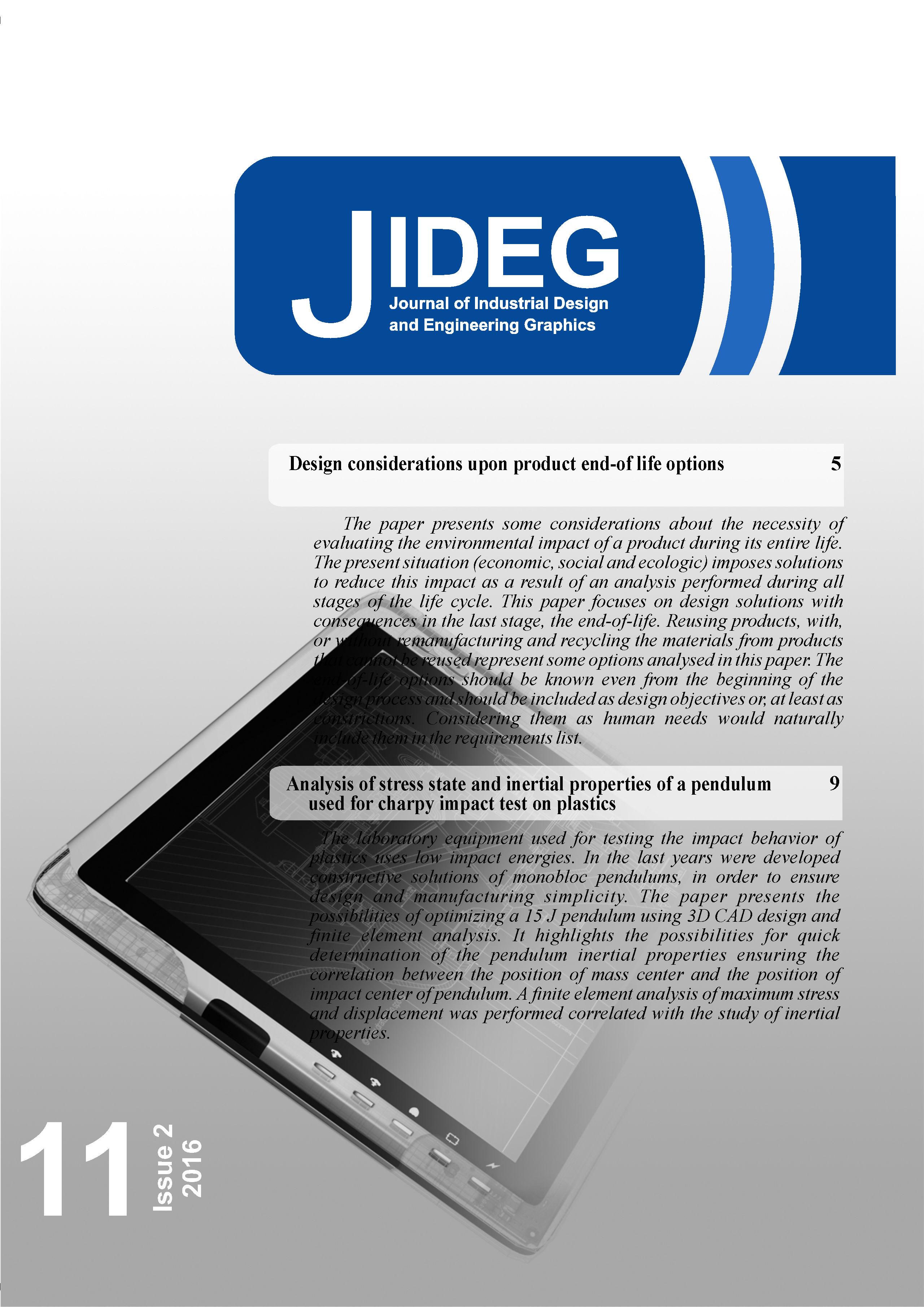 Downloads
License
Copyright (c) 2021 Journal of Industrial Design and Engineering Graphics
This work is licensed under a Creative Commons Attribution-NonCommercial 4.0 International License.