MODAL DYNAMIC ANALYSIS FOR THE SHAFTS OF A GEARBOX
Keywords:
computer graphics, shafts, modal dynamic analysis
Abstract
The main goal of this paper is to determinate the deformations of the shafts of a gearbox. A CAD model of a gearbox is designed in SolidWorks. The dynamic simulation of the gearbox is performed with ADAMS multibody software. In the first step of the simulation the parts are considered as rigid ones. The second step of the simulation proposes to consider the elasticity of the parts, especially of the gearbox shafts. For that, the shafts are meshed with tetrahedral finite elements in order to be considered as deformable solids. The results of the simulation are the shafts vibration modes and the deformations of the mass centers that are discussed in the paper.
Downloads
Download data is not yet available.
References
Khulief, Y. A., & Mohiuddin, M. A. (1997). On the dynamic analysis of rotors using modal reduction. Finite Elements in Analysis and Design, 26(1), 41-55, ISSN: 0168-874X.
Han, R. P., & Zu, J. Z. (1992). Modal analysis of rotating shafts: a body-fixed axis formulation approach. Journal of Sound and Vibration, 156(1), 1-16, ISSN: 0022-460X.
Campbell, B., Stokes, W., Steyer, G., Clapper, M., Krishnaswami, R., & Gagnon, N. (1997). Gear noise reduction of an automatic transmission through finite element dynamic simulation (No. 971966). SAE Technical Paper.
Berger, S., Bonneau, O., & Frene, J. (2000). Influence of axial thrust bearing defects on the dynamic behavior of an elastic shaft. Tribology International, 33(3-4), 153-160, ISSN: 0301-679X.
Catrina, Gh., Organe de masini, vol. I, Reprografia Universitatii din Craiova, 1997, ISBN: 978-606-510-004-6.
Catrina, Gh., Organe de masini, vol. II, Editura Universitaria, Craiova, 2002, ISBN: 978-606-510-897-4.
Dumitru N., Margine A., Bazele modelarii in ingineria mecanica. Editura Universitaria Craiova, 2002, ISBN: 973-8043-68-7.
Geonea I., Calculul si proiectarea reductoarelor. Universitatea din Craiova, 2018 (format electronic).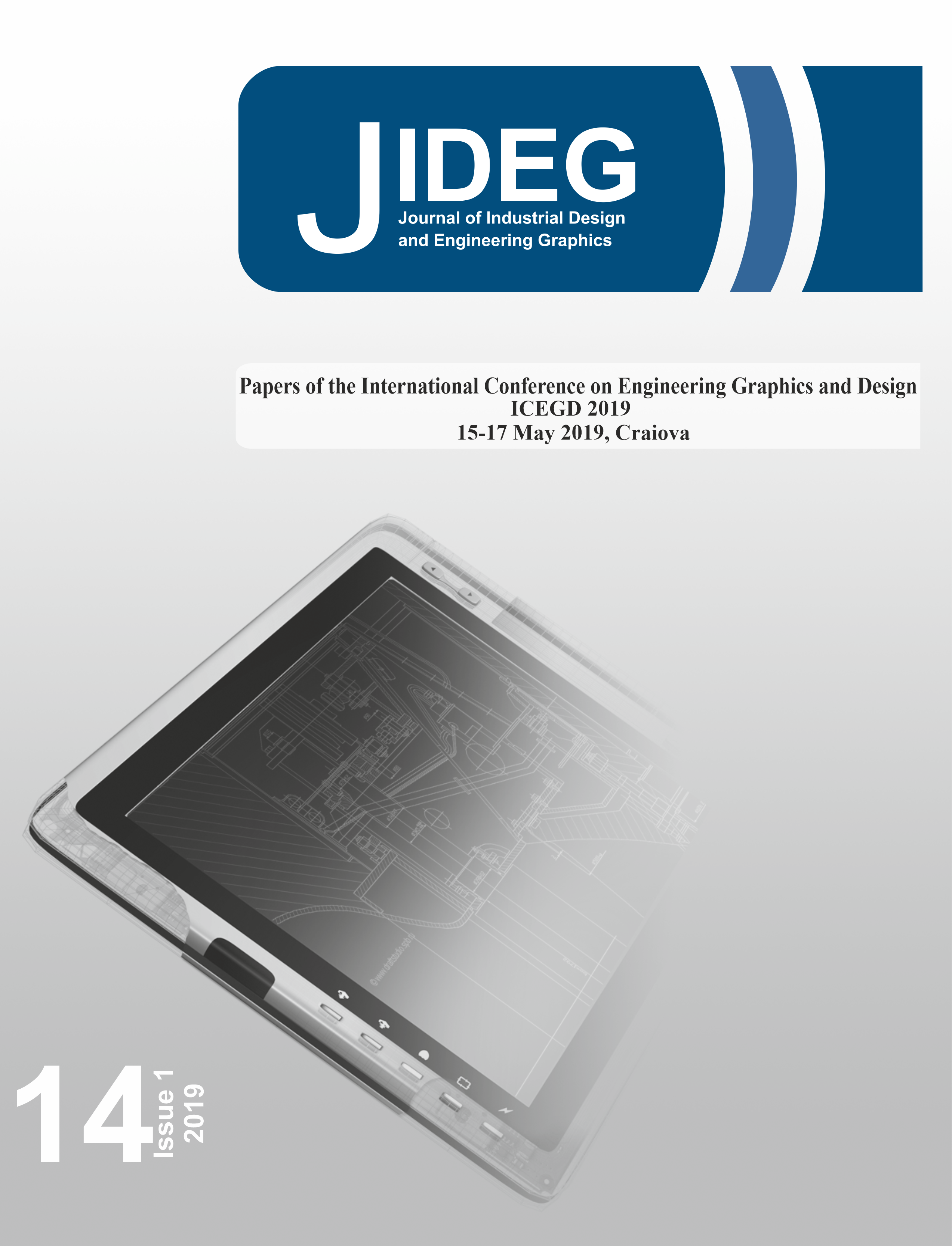 Downloads
Section
Engineering Computer Graphics
License
Copyright (c) 2020 Journal of Industrial Design and Engineering Graphics
This work is licensed under a Creative Commons Attribution-NonCommercial 4.0 International License.