INTERSECTION OF INCLINED CONICAL PLANES. APPLICATION OF TRADITIONAL METHODS
Keywords:
descriptive geometry, orthogonal projecting, intersection the conical planes
Abstract
One of the goals of teaching applied descriptive geometry to the students of Mechanical Engineering is the acquisition of knowledge and formation of skills in orthogonal projection of basic volumetric primitives and their intersection. The developed elements can be connected in various combinations whose diversity gives infinite opportunities predefined by the specific requirements of design and technology. Good knowledge of the properties and actual forms of different types of the geometrical bodies projected is the guarantee for their correct projecting. The paper presents the specifics of orthogonal projecting of inclined conical bodies and focuses on the relevance of traditional methods for finding the line of bodies' intersection in space.
Downloads
Download data is not yet available.
References
Uzunov N. Petrov G. Dimitrov S. (1963). Descriptive
Geometry, Part 1 (???????????? ?????????, ????
, Tehnika Publishing House, volume No 341/I-4,
Sofia.
Petrov D. (1971). Descriptive Geometry
(???????????? ?????????), publishing house
"?echnology",, ??? 515 (075.8), Sofia.
Posivyanskiy A. (1965). A short course of descriptive
geometry (??????? ???? ??????????????
?????????), publishing house "Graduate School",
publishing ? of/164 order ? 1280 , Moscow.
Glogów V.V., Grinyova B.M., Hnatiuk M.O. (1978).
Descriptive geometry on the basis of algorithmic
(?????????????? ????????? ?? ???????????????
??????), publishing house "Graduate School",
publishing ? 362 order 3662, Lions.
F.G. Higbee, M.E. (1915). The essentials of
descriptive geometry, Stanbope press F. H. GILSON
COMPANY BOSTON, U.S.A.
Millar V. Adam, Maclin S. Edward, Markwardt J.
Lorraine (1919). Descriptive geometry, publishing
house "Tracy & Kilgore, Printers", Madison,
Wisconsin.
Bartlett W.F., Johnson W. Theodore (1920).
Engineering Descriptive Geometry, A Treatise on
Descriptive Geometry as the Basis of Mechanical
Drawing, Explaining Geometrically the Operations,
Customary in the Draughting Room, publishing
house "The Lord Baltimore Press", Annapolis, MD.,
USA.
Minor Clyde Hawk (1962). Schaum`s outline of
theory and problems of Descriptive Geometry,
publishing house "McGraw – Hill Book Company ",
publishing ? 27290 MHUN 8210698. New York, St.
Louis, San Francisco, Toronto, Sydney.
Di Paola F., Pedone P., Pizzurro R. M . (2013).
Digital and interactive Learning and Teaching
methods in descriptive Geometry, Social and
Behavioral Sciences Volume 106 (2013) 873-885, 4th
International Conference on New Horizons in
Education, Imprint: ELSEVIER, ISSN: 1877-0428,
Chicago.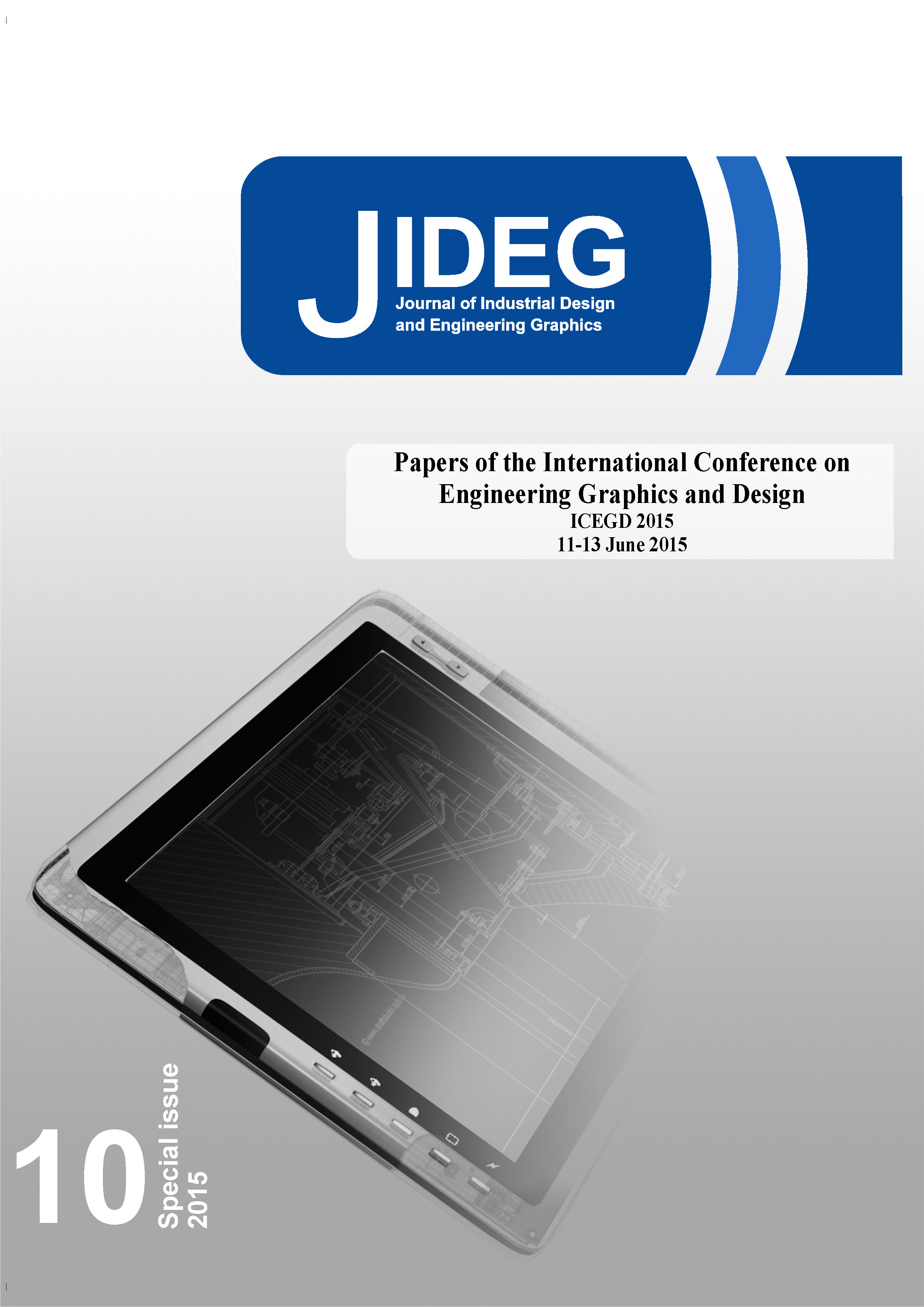 Downloads
Section
Theoretical Geometry and Graphics Section
License
Copyright (c) 2015 Journal of Industrial Design and Engineering Graphics
This work is licensed under a Creative Commons Attribution-NonCommercial 4.0 International License.