STUDIES REGARDING THE STATIC ANALYSIS OF TRUSS STRUCTURES
Keywords:
SolidWorks, weldment, beams, truss, FEA, mesh
Abstract
This paper refers to linear static analysis of truss and beams structures modelled in SolidWorks. In SolidWorks truss and frame elements are available only for staticstudies. For illustration it was modelled and studied the behaviour of a support of pipe. The truss is a welded structure modelled with Weldment Structural Members and it is often found in industrial constructions. During this study, there have been investigated the following FEA steps: Pre-Processing, Processing and Post-Processing.The results of this study are images corresponding to Axial Stress and The Maximum Displacement in different situations.
Downloads
Download data is not yet available.
References
Mogan, Gh. L,.Butnariu S. L., (2007).Analiza cu
elemente finite ?ninginerie.Aplica?ii practice ?n
CATIA.Publisher,Transilvania University of Bra?ov,
ISBN 978-973-598-159-4, Bra?ov, România.
SolidWorks Help,available at:
http://help.solidworks.com/2014/English/SolidWorks/
cworks/t_Performing_Analysis_Using_Beams_or_Tr
usses.htm,Accessed:2017-01-10.
Radostina V. P., (2014).Introduction to Static Analysis
Using SolidWorks Simulation, CRC Press, ISBN-
: 1482236184, ISBN-13: 978-1482236187, U.S.
Kurowski P. M., (2011). Engineering Analysis with
SolidWorks Simulation 2011,SDC
publicationavailableat:
http://athena.ecs.csus.edu/~grandajj/ME272/Frame_
welds.pdf, Accessed:2017-01-14.
Kurowski P. M., (2012).Engineering Analysis with
SolidWorks Simulation 2012, SDC publication,
available at:
http://www.sdcpublications.com/pdfsample/978-1-
-710-0-2.pdf,Accessed:2017-01-14.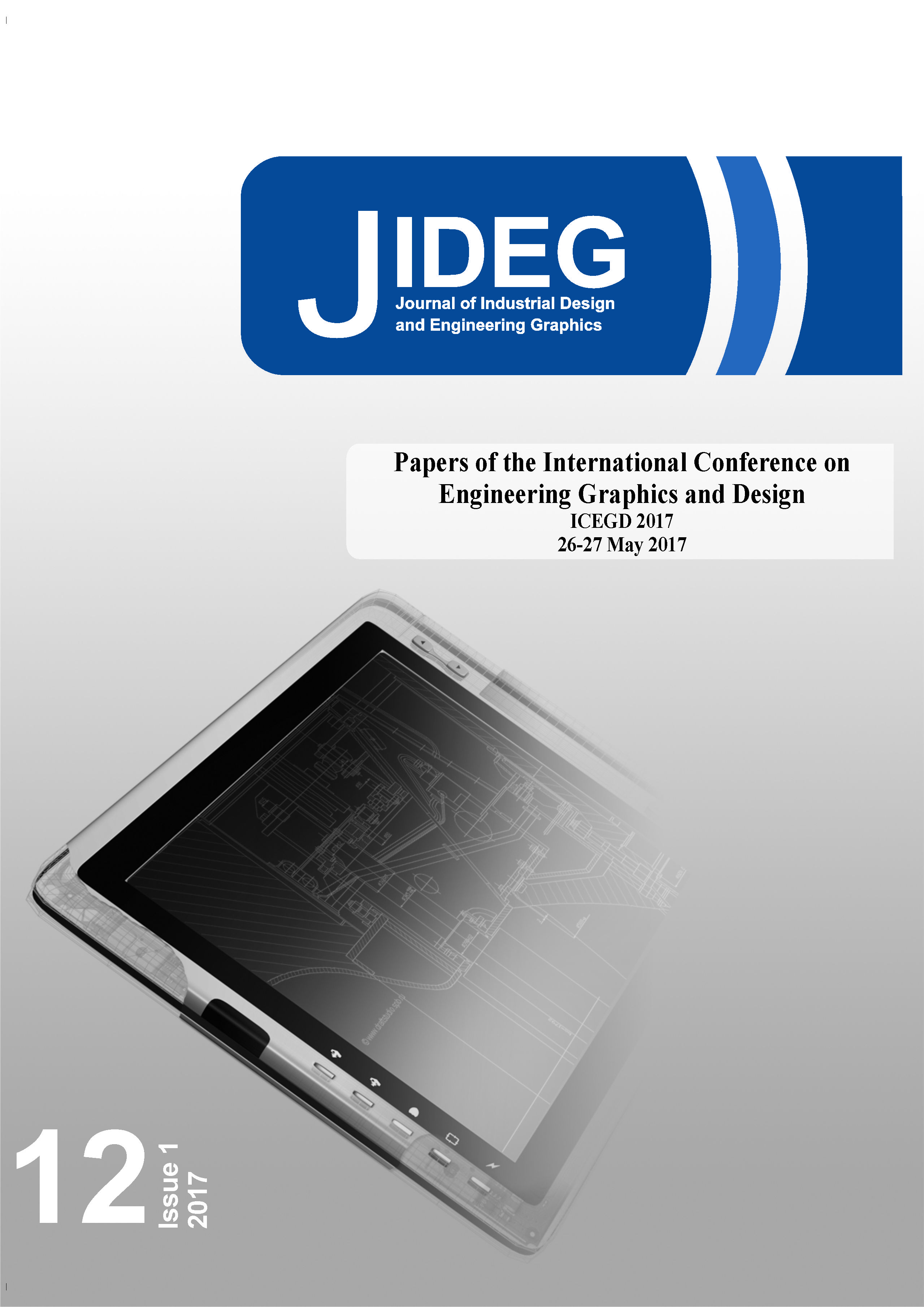 Downloads
Section
Industrial Design and Graphic Design
License
Copyright (c) 2021 Journal of Industrial Design and Engineering Graphics
This work is licensed under a Creative Commons Attribution-NonCommercial 4.0 International License.